A few years ago, I discovered egg roll papers in the grocery store. They are usually sold here with the fresh veggies.
Immediately my creative mind started imagining the possibilities! You can fill these with anything! The filling I started with is the only one that we use them for. We just can't imagine putting anything in them that's any better!
While you can roll them like the store bought egg rolls, I use a muffin pan.
This is the recipe I came up with for one package of egg roll papers (usually about 16-18 papers) :
4 pieces of bacon
2 whole chicken breasts, cooked (left over is ideal)
1 cup mushrooms, chopped
1 small onion, chopped
1/2 bell pepper, red or green, chopped
1 cup grated mozzarella or cheddar cheese
1/2 cup grated Parmesan cheese
Approximately 1/3 – 1/2 bottle Zesty Italian Salad Dressing
Cook bacon and set aside. Add chopped onion to the same pan and cook until barely tender. Remove from pan and add chopped peppers. Cook until tender. Onions cook much faster than peppers so it is necessary to cook them separately to prevent the onions from getting overdone before the peppers are cooked.
In large bowl, stir together the cooked chopped chicken, mushrooms, pepper, onion, bacon and cheeses. Add enough dressing to moisten all the ingredients very well.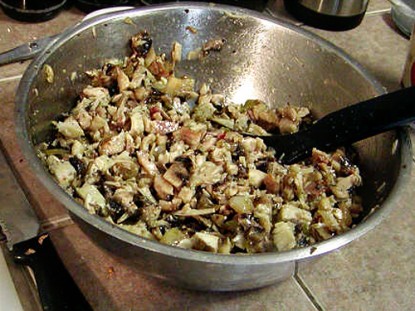 Insert papers into ungreased muffin pan. Add mixture, leaving enough room to fold down corners. Fold corners down, moistening with water and sealing together. Bake at 350F until crispy and golden brown. Let cool for 10 minutes before eating.
These are great leftover or even cold! They make good travel food and work/school lunches!
You can fill these with anything. I am going to experiment with some seasoned scrambled egg, Tabasco, chopped green onion, cheddar cheese and chopped bacon or ham for a "breakfast" thing. (We don't have a name for these. We just call them the "things".) I might put some salsa in it with the eggs too…
I'm off to buy more egg roll papers!
Get the handy print page and save this to your recipe box here:
Egg Rolls in a Muffin Pan.

Sheryl blogs at Providence Acres.

Interested in contributing a guest post to the Farm Bell blog? Read information here for Farm Bell blog submissions.

Want to subscribe to the Farm Bell blog? Go here.