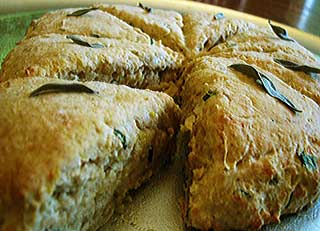 Difficulty:
Cook Time:
20-25 min
Ingredients
1/2 cup whole wheat flour
1 1/2 cups all-purpose flour
1 teaspoon baking powder
1/2 teaspoon salt
1 teaspoon sugar
2 tablespoons fresh, snipped herbs or 1 tablespoon dried herbs
1/4 teaspoon pepper
1 teaspoon minced or 1/2 teaspoon powdered garlic
3 tablespoons olive oil
1 cup grated cheese of your choice
1 egg
3/4 cup milk
Directions
Mix flours, baking powder, salt, sugar, herbs, pepper, and garlic in a medium-size bowl. Add olive oil, cheese, egg, and milk. Stir just until mixed together, then knead with floured hands a few times, not too much. Turn out onto a greased surface. I used a pizza pan, but any large cookie sheet would do as well. Roll into an 8-inch circle. Using a sharp knife, slice into eight pieces, but do not separate. I added a sage leaf on each piece for decoration. Bake in a 425-oven for 20-25 minutes until browned and delicious!
Serve warm with butter.
Submitted by: suzanne-mcminn on July 3, 2010