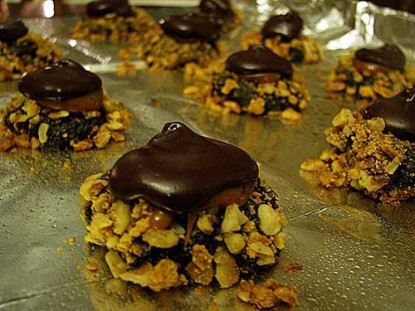 Difficulty: Easy
Servings: 3 dozen
Prep Time:
45 minutes plus chilling time
Cook Time:
8-10 minutes
Ingredients
1 egg, separated
1/2 cup butter, softened
2/3 cup sugar
2 tablespoons heavy cream*
1 1/2 teaspoons vanilla
1 cup all-purpose flour
1/3 cup unsweetened cocoa powder**
1/2 teaspoon salt
Plus coating, caramel topping, and chocolate topping
Directions
*You can use milk in place of cream.
**I used Hershey's Special Dark unsweetened cocoa powder.
Separate egg white and yolk. Reserve the white in a little bowl in the fridge till later. In a large bowl combine softened egg yolk, butter, sugar, cream, and vanilla. Beat well. Add flour, cocoa powder, and salt. Beat again. The mixture will seem a little dry, but it's really not. Scrape the dough off the beaters and put your hands in there, shaping the mixture into a ball. (It's almost like pie crust dough–it might seem dry, but when you get your hands in there, you can feel the moisture in the dough. Mush it together.) Wrap and chill for at least an hour. (You can chill it longer if you need to, but you will have to let it soften up some when you take it out if you let it get too cold.)
Using a spoon, scoop pieces from the chilled dough to shape into approximately 1-inch balls.
Take out the chilled egg white. Add one tablespoon of water to the egg white and whisk.
Coating:
1 cup finely chopped walnuts
1 cup crushed graham crackers
Combine walnuts and crushed graham crackers in a bowl. Dip each cookie ball in the egg white mixture and then roll in the walnut-graham cracker coating. Place coated cookie balls about two inches apart on greased cookie sheets. (You should be able to get all the cookies on two large cookie sheets.)
Use your finger or thumb to make an indentation in the middle of each ball. Bake at 350-degrees for 8-10 minutes. Do not overbake. These cookies will stay nice and soft if you don't overbake them.
Bake ALL the cookies before making the caramel topping. Leave cookies on cookie sheets to apply toppings.
Caramel Topping:
18 caramels, unwrapped
3 tablespoons heavy cream*
*You can use milk in place of cream.
Melt caramels and cream in a small saucepan, stirring frequently. Spoon topping into the indentation on each baked cookie.
Finish adding the caramel topping to the cookies before melting the chocolate topping. (The chocolate must be used right away or it will mess up, so be ready with your caramel-topped cookies before you start melting the chocolate.)
Chocolate Topping:
1 cup semi-sweet chocolate chips
1 tablespoon shortening
1 tablespoon heavy cream*
*You can use milk in place of cream.
Place chocolate chips, shortening, and cream in a small saucepan. Melt over low heat, stirring constantly. As soon as the chocolate is melted and the mixture is syrupy, remove from the heat and quickly mound over the caramel topping.
Give topping several minutes to set up before moving to a cookie jar or other container.
Categories: Cookies & Bars, Desserts
Submitted by: suzanne-mcminn on December 12, 2010