Can you tell the family has been in a sconey-mood lately? This time with caramel and apples!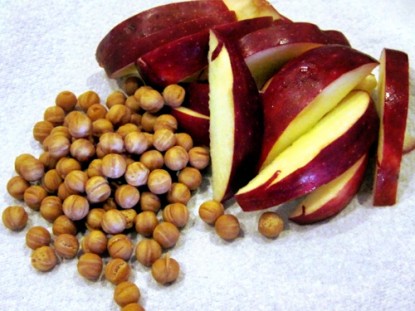 These scones, when taste-tested by a co-worker, were described as, "The best thing I have ever put into my mouth." Another said, "I should take cooking lessons from you."
[Laree fluffs her hair, preens a bit.]
That's right, I ROCK.
What do you mean? Of COURSE, I didn't make it up. They liked my scones! They are REAL people. REAL, I TELL YOU!!
I gotta taste-test these recipes on someone, ya know.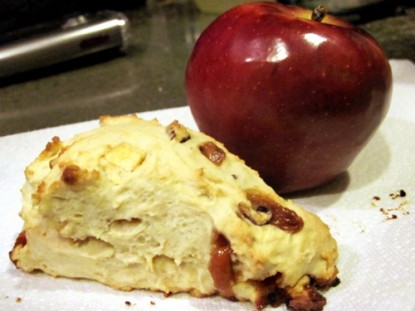 How to make Caramel Apple Scones:
2 cups flour
1/3 cup sugar
1/2 tsp baking powder
1/2 tsp salt
1/2 cup cold butter, cut into 1/4 inch squares.
1/2 cup caramel pieces, or chopped caramels
1 apple, cored and chopped.
1 cup heavy cream, 2 tbsp reserved (water or milk works just fine)
Mix the first 4 ingredients in a bowl, pour into the food processor.
Using the pastry blade, combine the chilled butter with dry ingredients until the dough clumps into pea-sized balls.
Add 3/4 cup plus 2 tablespoons heavy cream. Blend until well combined.
Add in apple and caramel, mix well.
Remove dough from food processor, and form dough into a circle on a Silpat or lightly greased pan.
Using a large knife, cut the dough into 8 wedges. Arrange wedges on Silpat, about 2 inches apart.
Brush the tops of the wedges with the remaining heavy cream.
Bake at 450 degrees for 13-15 minutes.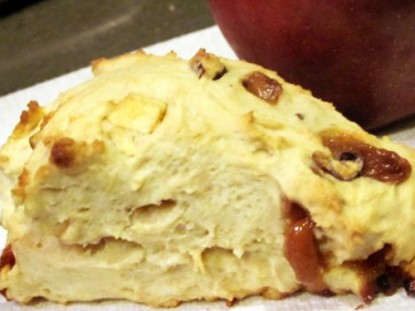 Look at the caramel oozing out….mmmm!


Get the handy print page and save this to your recipe box here:
Caramel Apple Scones.

Larissa blogs at The Henway.

Do you have a recipe post or kitchen-related story to share on the Farm Bell blog?
Read information here for Farm Bell blog submissions.

Want to subscribe to the Farm Bell blog? Go here.