Suzanne got a pressure cooker for Christmas–a nice shiny new Presto. Then she talked about it.
I had to pull mine out and learn how to use it. Mine isn't nice shiny and new. Mine is a 1947 Presto Meatmaster Cooker–an oldie, but a goodie.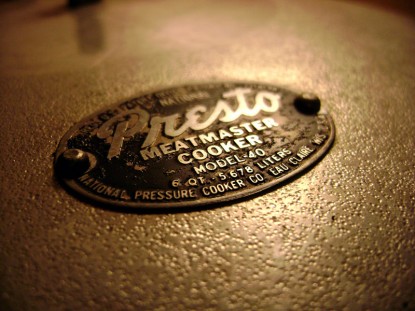 Mom found it at a yard sale years ago, only it was missing the pressure regulator. My sister and I finally remembered at Christmastime to look through all of hers to find one to fit.
And I've been learning and loving my "newest" gadget. I am totally in love with this pressure cooker. John is too–after staying on the other side of the kitchen the first night I used it to stay safe. He saw it didn't explode and the food was wonderful. He uses it more than I do now!
Obviously, I don't have a booklet that came with my pressure cooker-it's a model year 1947! I turned to Mom's 1947 Encyclopedic Cookbook.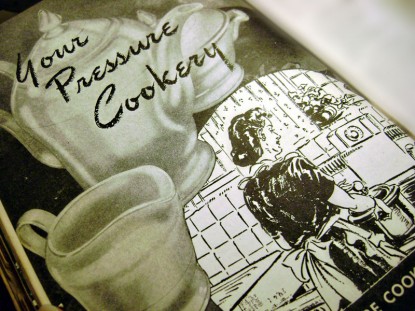 I've finally found the secret to Mom's Sunday Fried Chicken–pressure cook the chicken first, it does make all the difference with juiciness, flavor and time–I just never believed her.
That tough venison hind quarter? After 15 minutes in the pressure cooker, it's fork tender and mmm…mmm delicious.
I love brown rice in it best. 13 minutes! Yes, 13 minutes and original brown rice is done!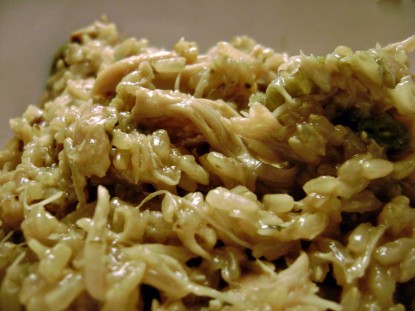 How to make Pressure Cooked Rice:
1947 Culinary Arts Institute Encyclopedic Cookbook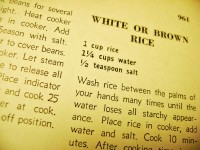 1 cup rice (white or brown)
1 1/4 cups water
1/2 teaspoon salt


Wash rice between the palms of your hands many times until the water loses all starchy appearance. Place rice in cooker.
Add water and salt. I used chicken broth.
Cook 10 minutes. My pressure regulator pops up, I start timing at this time.
After cooking time is up and cooker is cooled off in regular manner (mine takes 10 minutes), remove indicator and place cooker back on flame for 3 to 4 minutes. This will thoroughly dry out rice.
Never fill cooker more than 2/3 full of water and rice.


I added some home-canned chicken and green beans and had a one-pot meal. From start to table, I had Brown Rice and Chicken on the table in 30 minutes.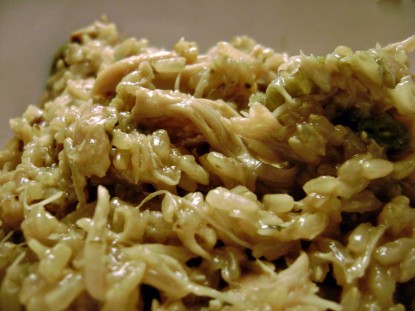 I cannot believe it took me seeing Suzanne get one to finally get mine out. This is almost like fast-food — home-cooked fast-food!


Get the handy print page and save this to your recipe box here:
Pressure Cooked Rice.

Cindy blogs at Chippewa Creek ~ Our Life Simplified.

Do you have a recipe post or kitchen-related story to share on the Farm Bell blog?
Read information here for Farm Bell blog submissions.

Want to subscribe to the Farm Bell blog? Go here.