I get a magazine called Simple and Delicious made by Taste of Home. I love it!! It was one of the best gifts I ever received and I have subscribed to it for many years now. This magazine gets me out of my food ruts! Once I know a recipe by heart I know its time to start looking for new ones. This recipe was submitted by a Donna Arerley from NY. THANK YOU, DONNA!
I have adjusted the recipe to fit my large family. The original is just half this recipe. This feeds my family of seven with enough left over for one person for lunch the next day. See I fixed my hubby lunch!
You will need:
16 oz bag of uncooked egg noodles
6-8 boneless chicken breasts
1 teaspoon salt
1/2 teaspoon pepper
3-4 tablespoons olive oil
2 cups sliced mushrooms (I normally leaves these out–no one in my family will eat them but ME! poor me!)
2 teaspoons garlic powder or minced garlic
2 cans cream of chicken
2 cans cream of mushroom
1 1/4 cup half-and-half cream
1/2 cup chicken broth (I use 1/2 cup hot water with one chicken bullion cube dropped in which makes it more chickeny…is that a word? probably not)
1/2 teaspoon chili powder
1/2 cup fresh minced parsley (never have this either…it's fresh and it always goes bad before I use it so I use the dried parsley)
So now that we are past all the ingredients I don't use…. On with it…
Cook noodles according to package directions. Great picture, right?
Meanwhile flatten chicken to 1/4-inch thickness. When I first made this, I got chicken everywhere. Yes, I am a slooooow leaaarnerrr…. I now use a sandwich bag over the chicken to help contain the mess. Works like a charm. See my lovely picture?
Sprinkle with salt and pepper. In a large skillet, cook chicken in the 2 tablespoons of oil. Do this in batches. When you're done with the first batch, throw 2 more tablespoons of oil in and do the second batch! Cook chicken on each side for 5-7 minutes or until juices run clear, remove and keep warm. Best picture yet!
I actually will cook them all, put them on a plate covered with paper towels, and zap them in the microwave for 6 minutes or so to really make sure they are cooked all the way through. I am always rushing, so for me this makes it safer for my family! Shhhh did you hear that? I think several chefs just fainted from hearing that! Sorry, CHEFS!
In the same skillet, saute mushrooms and garlic in remaining oil till tender. I really wish I could eat my mushrooms. (So since I skip this part, no picture, and I add the garlic in the next step.) Stir in the soups, cream, broth, garlic, and chili powder until blended. Heat through. Stir in 1/2 cup parsley. I am partial to this picture.
Next: DISH AND SERVE, BABY! OH YEAH, SO YUMMY!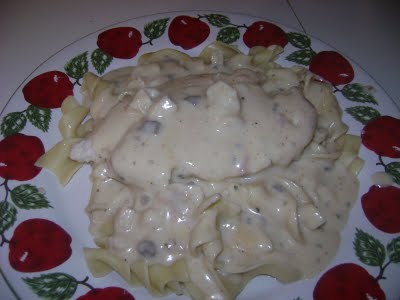 Noodles, chicken, and sauce. THE END! Now go pig out!
Get the handy printable and save it to your recipe box: Creamy Chicken and Noodles

Do you have a recipe post or kitchen-related story to share on the Farm Bell blog?

See

Farm Bell Blog Submissions

for information, the latest blog contributor giveaway, and to submit a post.

Want to subscribe to the Farm Bell blog?

Go here

.