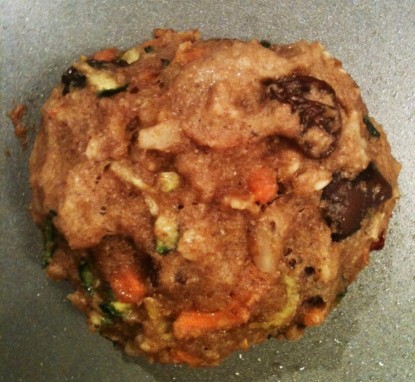 Difficulty: Easy
Servings: 36
Prep Time:
20 min
Cook Time:
10-15 min
Ingredients
BOWL #1 Ingredients:
2 1/2 c wheat flour (un-bleached)
1 1/4 tsp baking powder
3/4 tsp baking soda
3/4 tsp cinnamon
1/2 tsp nutmeg
1/8 tsp ground cloves
1/4 tsp salt
BOWL #2 Ingredients:
1 stick real butter, unsalted (melted)
1 c brown sugar (packed)
2 eggs
1/4 c Greek yogurt
1 Tbl lemon juice
Stir together VERY well before adding the next ingredients.
1 c raisins
1 c Dried Cranberries
1 c oatmeal
1 c walnuts or nut of your choice (fine chopped)
1 c dark chocolate chips
1 c green zucchini (grated)
1 c yellow zucchini (grated)
1 c carrots (grated)
Directions
Mix dry ingredients in bowl #1. Mix the other ingredients in bowl #2. Once thoroughly mixed, add bowl #1 to bowl #2 about a cup at a time, mixing thoroughly before adding each cup.
Place rounded by teaspoons onto greased cookie sheet, about 2 inches apart. Bake on lightly sprayed cookie sheets at 375°F for 10-12 minutes.
This recipe is adaptable, you can exchange ingredients. For example, chocolate chips can be changed to cherry chips, and the nuts can be almonds.
Categories: Appetizers & Snacks, Cookies & Bars
Submitted by: rmr1984 on April 25, 2012