Say what? I know I've had turkey ham but never thought I could make chicken ham! Never too old to learn is true!
While searching for ways to make deli meats at home I stumbled onto this stuff called Torihamu. Sounded so interesting I had to try it. I found out it is well known in Japan, it is much like a deli meat without all the chemicals in it, easy to make, does remind me of ham (kinda) and really is very good.
How to make Torihamu: Printable
3 pounds boneless, skinless chicken breasts
1 large ziplock bag
6 tablespoons honey (you can use brown sugar, molasses, or reg white sugar)
3 tablespoons salt (I used kosher)
Mix all the marinade ingredients in the ziplock bag.
Pat dry the chicken breasts. At this point you can add what ever spices you think you may like. I added 2 tablespoons liquid smoke and some cracked pepper. Some like crushed rosemary or thyme…your choice.
Place chicken breasts into bag and squish around well to coat. Work out all the air and seal. Place in fridge for 48 hours.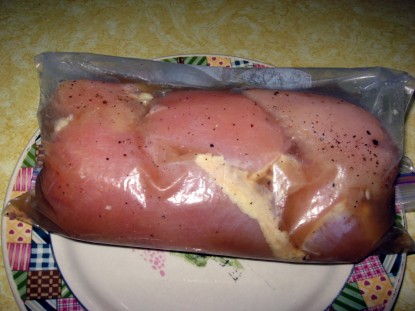 After 48 hours, rinse off the brine, and soak in water for 1 hour.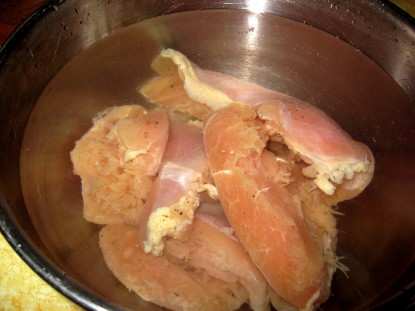 Pat dry. At this point you may add a little more seasoning if you think it needs it. I just added a little more pepper.
Now you can tie it up with twine into a roll. I didn't have any so I used crochet thread. Just be sure it is cotton thread. I've never done this so don't laugh at my tie job. Ha! Just do the best you can.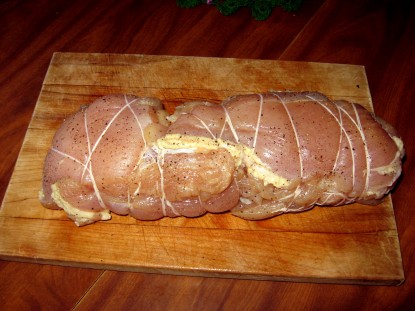 Lay it in a pan. I used foil and sprayed a little non stick just to be safe. Bake it uncovered at 235 degree for about 1 hour. It will look like it isn't done, but it probably will be. I cut into the thickest part to make sure, because I don't own a meat thermometer. But if you can check it that way, and if it registers 165°F, it should be done.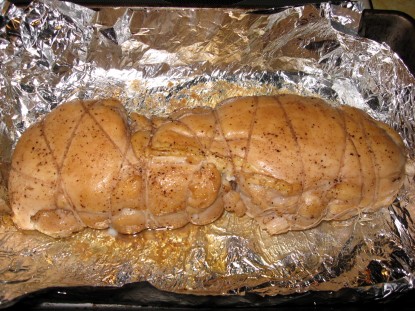 Let it cool slightly, then wrap in foil and let get cold in fridge.
This makes great sandwiches at a lot less cost of deli chicken or turkey. Use it in salads, pot pies, wherever it call for chicken. This turns out fine grained, much like ham. I know I will be making more of this. Now I'm thinking turkey breast, and maybe buffalo chicken breast, the flavors are endless.
I hope you try this, I think you will like it!


Do you have a recipe post or kitchen-related story to share on the Farm Bell blog?
See Farm Bell Blog Submissions for information, the latest blog contributor giveaway, and to submit a post.

Want to subscribe to the Farm Bell blog? Go here.
What can you enter to win this month? Click here.