I started out to write a post about all my favorite pumpkin recipes (which would be almost any recipe which contains pumpkin). But I deleted it all. On purpose. The truth is, it's not really what my food thoughts are focused on. I'm thinking about Thanksgiving.
Thanksgiving was my father's absolute favorite holiday. To him, it was a holiday which was truly based on enjoying time with family and friends, and being surrounded by great food. But I think his real favorite part of Thanksgiving was actually the day after. Many of you may be thinking of Black Friday, but I'm talking about a leftover sandwich of epic proportions. A few years ago, I won a bet to take a picture of his colossal concoction, AND a picture of him eating it 🙂
A little bit of everything from Thanksgiving dinner went into this sandwich.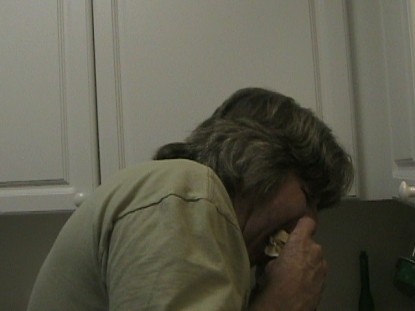 And he loved every bite!
After I moved far away to work on my Ph.D., I still talked to Dad close to every day. No matter what he always asked me two questions: "How are you doing?" and "Whatcha plannin' to make for dinner tonight?". I love to cook, and enjoyed telling him about all the dishes I was planning to attempt. In turn, he loved to imagine the meals, and sometimes would give me ideas for tweaking recipes, or a new dish to try.
The nearby botannical gardens hosted a chocolate festival. We, being chocolate fiends, of course went. (~2006)
In June of this year he passed away. It was not a sudden thing, and the family was able to travel to be with him in his final days. The trip was heart wrenching, yet it created a base to begin healing from. I would not trade it for anything.
In the following months I struggled to function. I went right back to work, in the sense that I showed up, but it took 2 months before I had a useful thought related to my research. All I really wanted to do was spend precious time with the people I love. Although a lot of what I love about cooking is to share it with others, I found making dinner nearly impossible. I couldn't answer the question "Whatcha plannin' to make for dinner tonight?".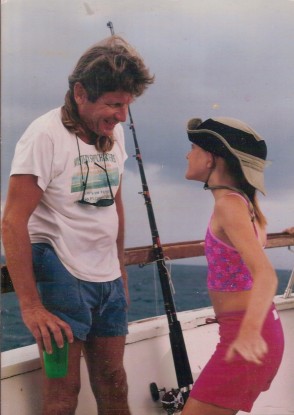 This was my dad's absolute favorite picture of the two of us. I think it captures my excitement, and his enthusiasm to share my excitement.
For months meals were thrown together last minute. They were desperately lacking in creativity. After nearly two months, there was a distinct moment when I woke up and had the desire to bake. The giant herb and cheese roll I posted was one of the first things I created as I slowly came back to life. In the last couple weeks I've finally been able to start really getting back into the swing of things. I can tell you what's going to be for dinner tonight (beef stew with dinner rolls), I get excited when I see a new dessert recipe, and baked a pumpkin bread pudding yesterday. Yet there are still moments that hit hard. Like two weeks ago when I realized that I'd just made my first chicken pot pie (delicious), yet I'd never have the chance to make it for Dad. He would have loved it–chicken pot pie was a favorite of his.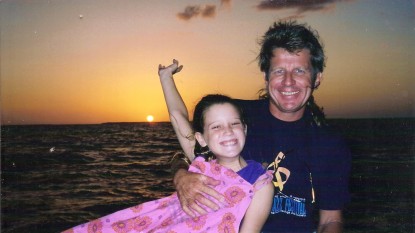 This is one of my favorite pictures of my Dad and I. I see nothing but happiness on both of our faces.
A lot of us know how important food, and everything surrounding it, is for memories. It touches every one of our senses, and in doing so our hearts and souls. My Mom taught me to cook, and my Dad taught me to love talking about it. As my heart returns to my love of food preparation, cooking, and conversation, I am able to appreciate more and more the gifts of memories I have. I'm blessed to have shared so much with my Dad, and for the ways he shaped who I am now, and who I will continue to grow into being.
I'm looking forward to spending Thanksgiving at one of my sisters this year, though I don't yet know what I'll be making to contribute to the meal. I do know that the day after Thanksgiving I will be making an over-sized leftover sandwich, complete with turkey, potatoes, dressing, gravy, sweet potatoes, cranberry sauce, and green beans. And, in memory of my Daddios, I will eat every last messy bite, and love it.


Do you have a recipe post or kitchen-related story to share on the Farm Bell blog?
See Farm Bell Blog Submissions for information, the latest blog contributor giveaway, and to submit a post.

Want to subscribe to the Farm Bell blog? Go here.
What can you enter to win this month? Click here.