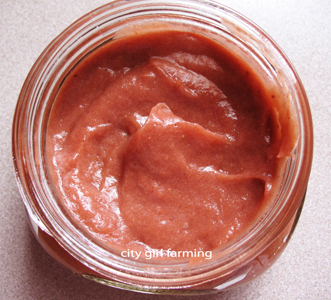 Difficulty: Easy
Servings: makes about 2-3 half pints
Prep Time:
20 min
Cook Time:
1 hr 20 min
Ingredients
2 lbs rhubarb (6-8 cups) chopped
1/2 cup chopped red onion
2 cloves garlic, chopped
4 tablespoons vinegar
1/4 cup packed brown sugar
1/2 teaspoon salt
1/2 teaspoon ground cumin
1/4 teaspoon cinnamon
1/8 teaspoon celery seed
Directions
Roast rhubarb, onion and garlic in 350 degree oven for about 1 hour, stirring occasionally. Place in a food mill or sieve and puree mixture into sauce pan (or blend the whole thing up in a high powered blender or other kitchen appliance until smooth).
Add remaining ingredients and cook on low heat for about 20 minutes, stirring often.
Refrigerate for up to 3 months, freeze for up to 6 months, or can using water bath method, boiling for 20 minutes (for half pints)or 15 minutes (for 4 oz jars).
Categories: Boiling Water Bath, BWB Condiments, Canning, Condiments, Freezing, Other Condiments, Sauces
Submitted by: citygirlfarming on August 2, 2011