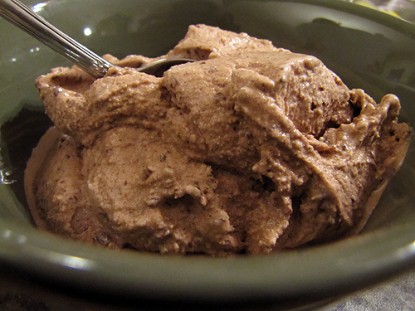 Difficulty: Easy
Servings: 1 1/2 quarts
Prep Time:
20 minutes
Cook Time:
20 minutes
Ingredients
6 ounces semi-sweet chocolate
2 cups milk
3 beaten egg yolks
1/2 cup sugar
1 1/2 teaspoons vanilla
1 cup cream
Directions
Combine 1 1/2 cups of the milk, egg yolks, and sugar in a double boiler. Cook slowly until mixture thickens. Meanwhile, melt chocolate with the other 1/2 cup of milk. Add to thickened milk-egg-sugar mixture. Cool. Add cream. Chill mixture 4 hours before making ice cream.
To add candies, chocolate chips, etc, use about 1 1/2 cups, added in the last few minutes of making the ice cream. To make cookie dough ice cream, when making cookie dough, separate out a portion of the mixture to make without eggs to use in your ice cream.
Categories: Desserts, Frozen, Ice Creams
Submitted by: suzanne-mcminn on May 9, 2011