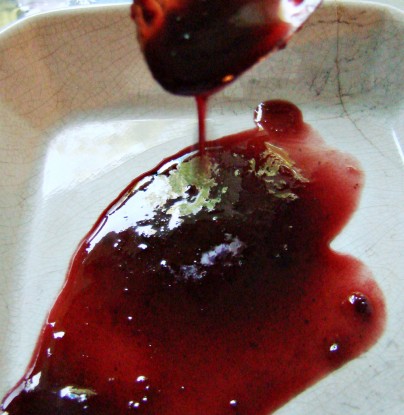 Difficulty: Intermediate
Servings: 6.5 Cups
Prep Time:
1 hour
Cook Time:
2 hours
Ingredients
2 cans diced tomatoes
2 large cloves garlic
1 small-medium onion, diced
1/4 cup red wine vinegar
4 cups blackberry juice
1 cup white sugar
1 cup brown sugar
2 tsp molasses
1/4 tsp cayenne
1/2 tsp mustard powder
1/2 tsp ground allspice
1 Tbsp salt
Directions
Heat the tomatoes, onion and garlic until soft. Puree in blender. Put back into wide bottom pot. Combine the rest of the ingredients in the pot and simmer until reduced by half. [You can do this in a crock pot.] Adjust spices to taste. Makes 6 1/2 cups.
Notes:
Blackberry juice: Cook the blackberries with a bit of water [so they don't stick to the pot]. Mash. Strain seeds and skins out. I line my chinois [colander, sieve, strainer] with cheesecloth, put the mash in, and squeeze the juice out.
Consistency: We like it on the thin side. If you want it thicker, cook it longer.
You can halve the recipe if you need to.
Categories: Condiments, Crock Pot, Dips, Dressings, Marinades, Sauces, Special Diets, Vegetarian
Submitted by: rurification on August 3, 2011