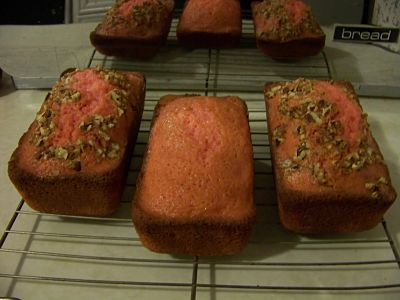 Difficulty: Easy
Servings: 1 regular sized loaf
Prep Time:
no time at all
Cook Time:
1 hour
Ingredients
2 Tbsp margarine
1 c sugar
1 egg
1/2 tsp salt
2 c sifted flour
2 tsp baking powder
1 – 8 ounce bottle maraschino cherries
milk added to juice drained from maraschino cherries to make 1 cup liquid in all
Directions
Cream margarine and sugar. Add salt and unbeaten egg; mix until light and fluffy.
Sift flour, measure and sift together with baking powder.
Drain juice from bottle of maraschino cherries into a measuring cup. Add enough milk to this to make 1 cup liquid in all.
Add sifted dry ingredients and milk alternately to creamed mixture.
Chop drained cherries, fold into batter.
No nuts called for in this recipe. Add some if you wish.
Turn into well greased loaf pan.
Bake at 350 for 1 hour or until it tests done.
Categories: Breads, Fruit Breads, Holiday
Submitted by: twoturkey on May 7, 2010