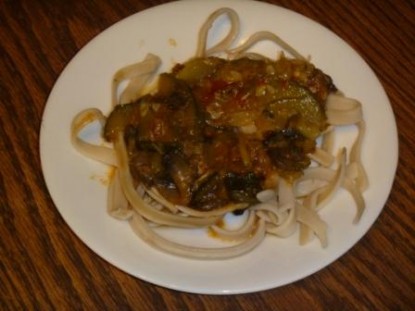 Difficulty: Easy
Servings: 6 - 8
Prep Time:
20 minutes
Cook Time:
1 hour
Ingredients
1/4 cup butter, melted
1 1/2 lb. sweet or hot Italian bulk style sausage
3/4 to 1 lb. mushrooms, sliced
3/4 cup cooking sherry
3 chicken bouillon cubes
2 – 3 lb. zucchini, sliced
2 onions, sliced
Parmesan cheese
Directions
Saute sausage and mushrooms in butter. Add sherry and bouillon cubes, then add zucchini and onion. Cook until zucchini is soft and sausage is done (35 to 40 minutes).
Serve with spaghetti and pass the Parmesan cheese.
Categories: Main Dish, One Dish Meal, Pasta, Sauces
Submitted by: joeyfulnoise on August 1, 2011