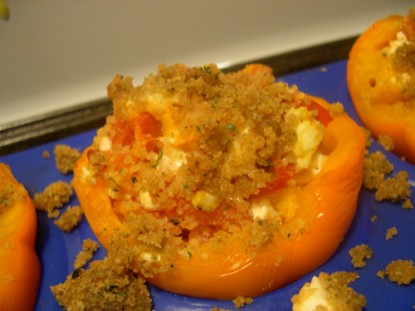 Difficulty: Easy
Servings: 4+
Prep Time:
20 min
Cook Time:
15 min
Ingredients
Tomatoes large enough to stuff, and 1 small one to provide enough "filling" or zucchini or squash
Per 4 medium tomatoes:
1/2 cup crumbled feta cheese
2 TB fresh basil and/or fresh oregano, snipped or chopped into tiny pieces
2 TB green onions or chives finely chopped
1/4 cup sliced olives
1/4 cup chopped roasted red peppers (I prefer jarred peppers here)
1 clove fresh garlic, minced
1/4 cup bread crumbs, Panko are preferred
salt & pepper to taste
2 TB olive oil
Directions
Wash tomatoes, cut off tops and scoop out insides, leaving as thick a wall as possible.
Chop the tomato innards (may need that extra tomato here if there isn't enough filling to refill the tomato shells), and combine with all the other ingredients. Fill tomato shells, and place in a baking dish. A muffin tin works great to hold up each individual tomato.
Bake 350° for 15 minutes. Serve hot.
Categories: Main Dish, One Dish Meal, Other Main Dish, Side Dishes, Vegetables
Submitted by: lizpike on July 29, 2011