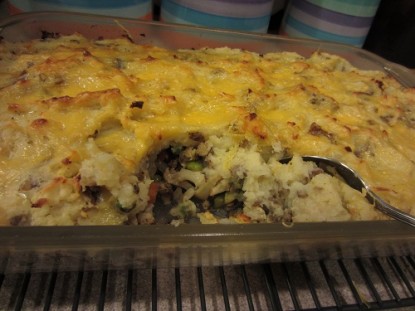 Difficulty: Easy
Servings: 4-6
Prep Time:
1 hour
Cook Time:
30 minutes
Ingredients
2 lbs. potatoes
milk
butter or margarine
salt and pepper
1-1 1/2 lbs. lean ground beef
1 T. oil
1 onion, chopped
4-5 c. chopped vegetables
2 t. Worcestershire sauce
1 t. dried thyme
1/2-1 c. beef broth
1-2 c. frozen peas
grated extra-sharp cheddar, optional
Directions
Quarter potatoes and boil in salted water until tender; mash with milk and butter or margarine and season with salt and pepper. If you're concerned about carbs, you can substitute cooked, mashed, and seasoned cauliflower for some or all of the potatoes. You can also substitute Colcannon (an Irish dish of potatoes mashed with cabbage or other greens) for the plain mashed potatoes.
While the potatoes are cooking, brown ground beef, then remove from pan and drain on paper towels. (You can also use ground lamb, for a traditional Shepherd's Pie.)
Wipe out pan, then return to medium heat and add oil; when that's hot, add onion and chopped vegetables—almost anything will work. I've used everything from broccoli to beets to kohlrabi and it's been great. Greens are a great addition, but I would add them with the peas later.
Cover the pan and cook, stirring occasionally, until the vegetables are almost done, then return beef to pan with vegetables and add Worcestershire sauce, thyme, beef broth (I usually just throw in a ½ pint of homemade broth from my freezer) and salt and pepper to taste. Simmer, uncovered, for 10 minutes, then stir in frozen peas. Transfer the mixture into a 9"x13" baking dish. Spoon dollops of the mashed potatoes on top, then spread to cover. I like to grate some extra-sharp cheddar on top.
Bake at 400 degrees for about 30 minutes, or until the top is starting to brown a bit.
Categories: Beef, Casserole, Low-Fat, One Dish Meal
Tags: English
Submitted by: stillsth on June 11, 2012