This past November, we were fortunate to be invited to sell our rustic furniture at a holiday open house at Hannah's Pottery in Scott Depot, WV. Hannah specializes in lovely, functional stoneware for the kitchen and outdoor garden and her pieces all have her signature maple leaf design. Every fall she hosts an open house and invites several artisans to sell their creations.


A trip to her studio and rambling country garden is truly a destination to remember. The garden is a whimsical collection of trellises, vines, flowers, rustic garden chairs and benches, birdbaths and birdhouses, a fish pond and all sorts of other garden art. If I attempted that, it would be chaos. With Hannah's eye for design it is a marvel. Even in winter it has much visual interest.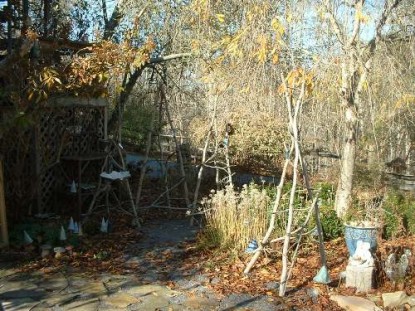 If you can't visit Hannah's in person, be sure to visit her website, Hannah's Pottery.
In addition to completely rearranging her studio for her annual open house she also manages have something wonderful simmering on the stove to feed the artists. This year she made a wonderful and hearty soup: Pasta Fagioli. Pasta Fagiola is a traditional meatless Italian peasant dish that translated, means pasta and beans. It is also called Pastafazool in some areas of the United States. Ingredients vary regionally and sometimes include meat.
How to make Pasta Fagioli Soup: Printable
1 tablespoon olive oil
2 cloves garlic
1 onion, chopped
1 to 2 cups of shredded carrots
2 cans of diced tomatoes
1 box of beef broth
2 cups water
1 teaspoon dried basil
1/2 teaspoon oregano
1/4 teaspoon pepper
2 to 3 dashes of Tabasco sauce
1 (15 oz.) can of kidney beans, drained and rinsed
1 cup loosely packed spinach, finely minced
2 tablespoons of minced parsley
3/4 cup or more of elbow or shell pasta
Parmesan cheese
1 pound ground turkey (I use ground pork because I have it)
Heat olive oil in a large skillet over medium heat. Add garlic, onion and cook until onions are tender. Brown meat along with the onions. Stir in tomatoes broth, water, carrots, basil, oregano, pepper, and Tabasco. Cover and heat to boiling. Reduce heat and simmer for 15 minutes. Stir in beans, spinach, and parsley. Increase heat to high and bring to a boil. Add pasta and cook for 10 minutes. Serve with Parmesan cheese.
Thank you Hannah, for this wonderful soup that is a snap to fix and tastes so good on a cold day, especially when served in a gorgeous stoneware soup bowl.
I generally have trouble following recipes as written so this is the perfect soup for me. I usually modify this soup to accommodate ingredients I have on hand. I substitute a variety of beans for the kidney beans and I use different greens for spinach. For this soup I used black beans mixed with kidney beans, leftover romaine lettuce and cabbage for the greens, and I added a handful of shiitake mushrooms. That's the wonderful thing about a great soup recipe, it can be adjusted to suit ingredients on hand and it always hits the spot, especially on a cold winter evening.