My maternal grandmother, Elzoda, cooked on a big black cast iron wood-burning kitchen stove all of her life on a farm in rural Maine. The stove was called Modern Clarion, with the name right on the oven door. It was purchased around 1915 when they were first married.
The stove in 1941.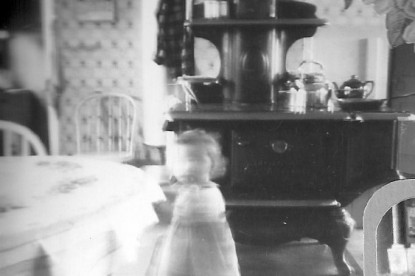 The stove in 1961.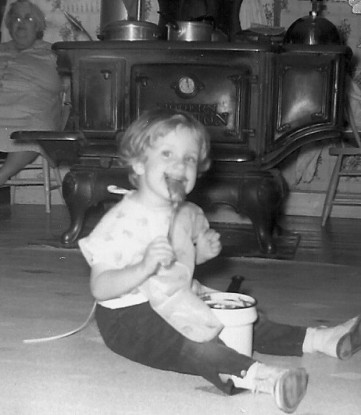 Grandpa would bring in armloads of split hardwood and kindling for her every morning and evening and pile it in the woodbox beside the stove. When my sister and I were children, one of our jobs was to bring in the wood from the woodshed.
The stove had a big water reservoir on the right side to keep water hot. In later years they had a separate hot water heater with a coil that went around inside the wood stove and back to the water heater, and then was piped to the cast iron sink on a nearby wall.
There were little shelves on either side at the top where we dried our mittens, and a big oven with a temperature dial on the door. The stove had a little door on the left side so you could put in more wood without disturbing what was cooking on top. There were six round covers on top where the wood was put in, and you could take one off if you needed a really hot place to put the frypan. It would fit right inside the biggest hole.
Grammy would cook the most wonderful meals–Saturday night baked beans, little "graham gems" (muffins), johnnycake and brown bread, doughnuts and the best molasses cookies, lots of roasts and stews, and of course her famous buttermilk biscuits. Not to mention delicious cakes, pies and cookies of all kinds.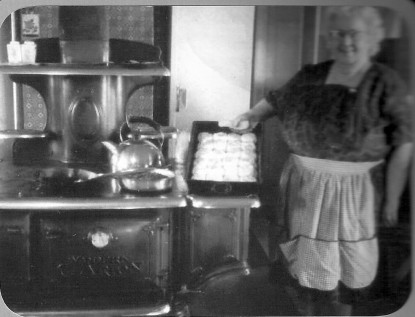 I have her cream tartar biscuit recipe that she wrote out for me.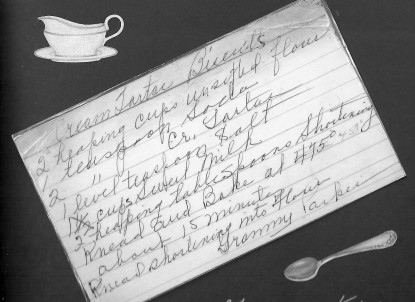 My sister and I learned to cook on this stove, as did our mother and uncle before us. My repertoire was simply scrambled eggs in the cast iron spider (frypan), or muffins from the 4-H cookbook.
Sometimes Grandpa would make popcorn after supper, shaking the wire popcorn popper on top of the stove until it was popped full and bursting out the top. He would melt a chunk of Grammy's homemade butter in a pan and pour it over the popcorn in a big bowl, shake a little salt on it, and have a treat "fit for a king" as he would say.
There was always a cat or two sleeping under the stove or on top of the woodbox. One was named "Cocktail" because he had a crook in his tail caused by not jumping down off the woodbox fast enough and getting his tail caught when the cover came down! Sometimes the cats would just narrowly miss being stepped on when Grammy was busy cooking a meal.
On cold winter evenings Grandpa would sit in front of the stove in the rocking chair, open the oven door and put his wool-stockinged feet inside to get them warm. I can just hear Grammy now, saying, "Clarence! You'll burn your feet!" But he would just smile his slow Maine smile and go right ahead.
Oh, how I wish I had that big old black cookstove in my kitchen now, with my grandparents standing beside it!

Do you have a recipe post or kitchen-related story to share on the Farm Bell blog?

See

Farm Bell Blog Submissions

for information, the latest blog contributor giveaway, and to submit a post.

Want to subscribe to the Farm Bell blog?

Go here

.