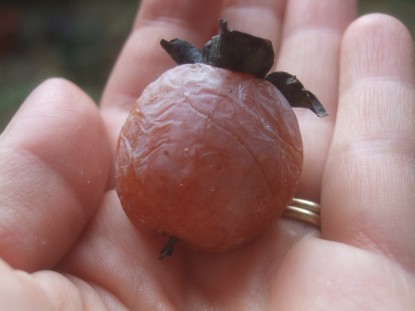 The man answering the door appeared puzzled. I repeated the question.
"The black walnuts in your yard by the street – do you mind if we pick them up?" I waved my arm toward the ground, blanketed with nuts whose husks were Kermit-the-frog green.
"Oh. Um, sure. Go ahead." He closed his door, still looking a little confused.
It's the season of plenty for urban and country foragers, those of us who pluck spring's wild violets for fragrant syrup, snag wintergreen berries from mountain trailsides or make preserves from August's vacant-lot figs.
Now, all over Carolinas where I live, hickory, pecan and black walnut trees are dropping their nuts. Hundreds of pounds of food lie in sidewalks, roll into gutters, and eventually rot in the rain.
For my family and I, autumn means we check the status of parking lot pecans while we wait for appointments. On the way home from a suburban Target store, we spy a persimmon tree leaning over the sidewalk. We pull over to gather the sweet-soft fruit from the ground and later savor the taste of nostalgia in the form of a persimmon pudding.
What's the appeal of eating from the landscape? There's the delight in being more attuned to the subtle seasonal changes. There's the fun of giving away wild hickory nut biscotti at Christmas or making my mother's famous black-walnut fudge. But there's also this: In a time of rising food prices, we are, in a small way, eating for free.
In our town, shelled black walnuts cost about $18 a pound. Devilishly hard to crack, they come by that price honestly. But why buy nuts for oatmeal and baking when they are rolling all over city sidewalks?
To be sure, you've got to be willing to husk, cure and crack the nuts. You need to avoid sprayed plants and areas next to heavy traffic and must seek permission before harvesting on private property. But the morel mushrooms my children and I gathered in spring, the dandelion fritters we've made from our own front-yard weeds and the vanilla-spiced pears we canned after picking, with permission, from a neighbor's feral tree all were more than worth the effort.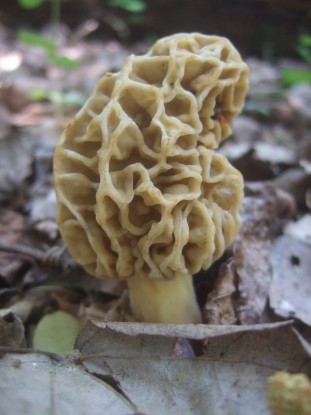 Foraging awakens our senses to the natural world, filling not just our stomachs – but our souls.


backyardandbeyond blogs at Backyard & Beyond.

Do you have a recipe post or kitchen-related story to share on the Farm Bell blog?
See Farm Bell Blog Submissions for information, the latest blog contributor giveaway, and to submit a post.

Want to subscribe to the Farm Bell blog? Go here.
What can you enter to win this month? Click here.