To celebrate Pi(e) Day on March 14th (3.14), I wanted to recreate a childhood memory for my boyfriend, but couldn't find a recipe for the pie he loved as a child. His fond memories of picking wild blackberries as a child in the UK, then bringing them home to be turned into a pie by his father started me on the venture to make him a pie with his two favorite fruits–apples and blackberries. I've modified a fruit crumble recipe from Epicurious that we really like to top this deep-dish pie.
How to make Apple Blackberry Pie: Printable
This pie uses pastry for a 1-crust pie and requires a deep-dish pie pan.
Start by making the filling.
Chop 1 1/2 pounds of apples, such as Galas or Fujis into 1/2″ pieces. I used 4 Braeburn apples. You can peel them first, but I don't bother. Life is short!
Combine apples with 2 1/2 cups blackberries. I used some lovely local blackberries that I froze last summer and just let them thaw enough so that I could separate them. Add in 6 tablespoons sugar, 1 1/2 tablespoons cornstarch, and 1/2 teaspoon vanilla extract.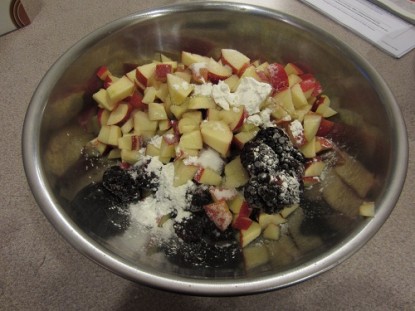 Now, mix together the topping.
Mix 1 cup oats, 1/2 cup flour (I used whole wheat 'cause that's how I roll) and 1/4 teaspoon salt together in a separate bowl. Cut in 1/2 cup softened margarine or unsalted butter.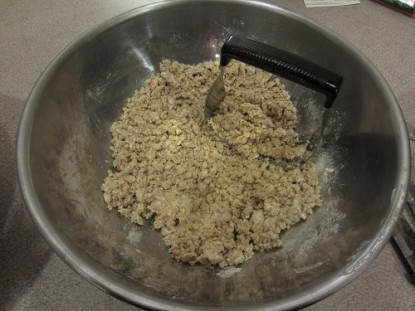 Roll out your crust and put it in your pie plate. Fill with filling.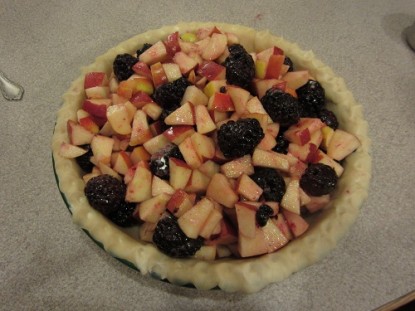 Then top with the crumbs. I had a bit of crumbs left over.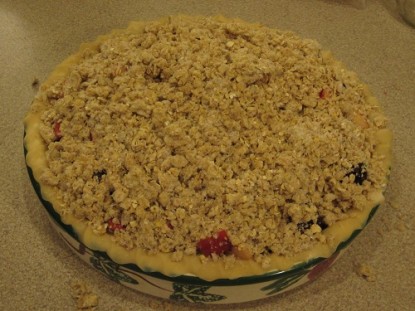 Bake the pie in the lower third of your oven (thanks, Suzanne, for that trick!) at 425 degrees for 30 minutes, then reduce the oven temperature to 350 degrees and bake for another 30 minutes.
You'll know it's done when the crumb topping is browned and you can see the filling bubbling. Even though this recipe makes A LOT of filling and you have to mound it up to get it all in the pie plate, I haven't had trouble with the pie bubbling over and making a mess in the oven. I suspect this would be an issue if you upped the ratio of blackberries to apples, however.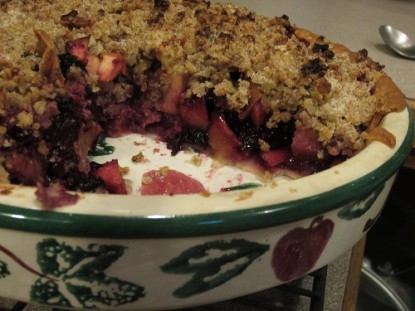 Enjoy!


Do you have a recipe post or kitchen-related story to share on the Farm Bell blog?
See Farm Bell Blog Submissions for information, the latest blog contributor giveaway, and to submit a post.

Want to subscribe to the Farm Bell blog? Go here.