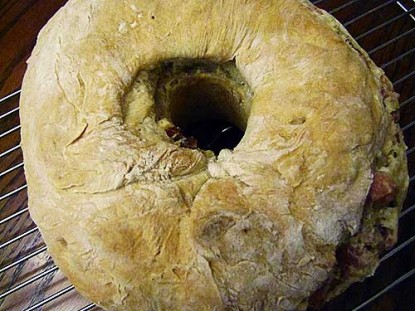 sandwichy
thing. Go put this in your oven! Great as an appetizer, snack, or main dish, and especially for parties. I used ham in this recipe, but you could use any meat or a combination or meat and vegetables or make it vegetarian. Just stick to three cups for whatever combination of meat and veggies you choose. This is a
Grandmother Bread
recipe.
Difficulty: Easy
Servings: 12
Prep Time:
1 1/2 hours rise time
Cook Time:
40-45 minutes
Ingredients
FOR THE DOUGH–
1 1/2 cups warm water
1 teaspoon yeast
2 tablespoons sugar
1/2 teaspoon salt
3 1/2 cups flour
FOR THE FILLING–
4 ounces cream cheese, softened
8 ounces sour cream
2 tablespoons finely diced onion
2 teaspoon dried dill
1/2 teaspoon seasoned salt
3 cups chopped ham
Directions
In a large bowl, combine water, yeast, sugar, and salt. Let sit five minutes. Stir in first two cups of flour with a heavy spoon. Add the remaining flour a little at a time as needed, stirring until dough becomes too stiff to continue stirring easily. Add a little more flour and begin kneading. The amount of flour is approximate–your mileage may vary! Use as much flour as you need for a pliable dough. Continue adding flour and kneading until the dough is smooth and elastic. Let dough rise in a greased, covered bowl until doubled. (Usually, about an hour.) Prepare filling.
Using an electric mixer or a sturdy spoon, combine cream cheese and sour cream. Add onions, dill, and seasoned salt. Stir in chopped ham.
Uncover bowl; sprinkle in a little more flour and knead again briefly. Roll dough out on a well-floured surface into an approximately 12-inch by 9-inch rectangle. Spread filling over dough. Roll dough up from the long edge. Seal ends and edges.
Using a greased baking sheet, and flipping the dough over so the sealed edges are down, transfer the dough carefully–you can either place it straight out as a French-style loaf or shape into a ring. To retain the ring shape during rising and baking, either place a glass in the middle of the ring or place the ring in a tube pan.
Bake for about 40-45 minutes at 350-degrees. (If you bake it in a straight loaf, it might not take as long.) Slice in wedges.
Categories: Appetizers & Snacks, Entertaining, Holiday, Kid-Friendly, Potluck, Sandwiches, Yeast Breads
Submitted by: suzanne-mcminn on December 26, 2010