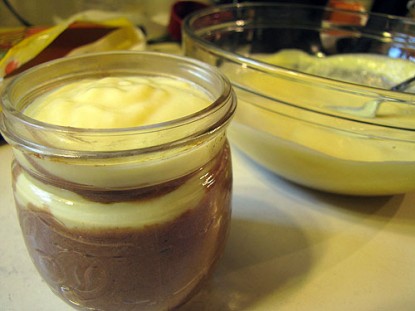 Difficulty: Intermediate
Servings: 8-10
Prep Time:
30 minutes
Cook Time:
15 minutes
Ingredients
1 3/4 cups milk
1/2 cup sugar
4 egg yolks
1 teaspoon corn starch
1 teaspoon vanilla extract
Directions
eat the milk without scalding. Whisk the sugar and egg yolks in a bowl until well blended. Slowly add the hot milk, whisking constantly. Return the mixture to the pot used to heat the milk. Remove about 1/3 cup of the mixture from the pot. Whisk in the teaspoon of corn starch and return the corn starch/milk mixture to the pot and whisk to blend. Add the teaspoon of vanilla and whisk to blend. Stir constantly over medium heat until the mixture thickens and coats a spoon. Chill to thicken further.
Categories: Desserts, Puddings & Custards
Submitted by: suzanne-mcminn on March 30, 2014