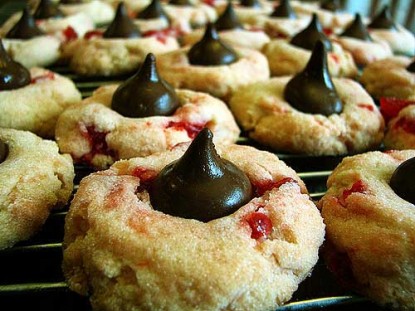 Difficulty: Easy
Servings: 32 cookies
Prep Time:
20 minutes
Cook Time:
15-20 minutes
Ingredients
1 cup butter, softened
1 cup powdered sugar
1/8 teaspoon salt
2 teaspoons maraschino cherry liquid
1/4 teaspoon almond extract
2 cups all-purpose flour
1/2 cup chopped maraschino cherries
1/4 cup sugar
milk chocolate kisses (approx. 32)*
Directions
*How many cookies this makes depends on the size of cookie dough balls you make. I made 32.
In a large mixing bowl, whip up the butter. Add the powdered sugar and salt; beat. Add the cherry liquid and almond extract. Beat again. Start adding the flour, mixing with a spoon. Add a little at a time, as much of the two cups as you can. This makes a sturdy dough. Add chopped maraschino cherries. Shape dough into little balls, about 1-inch. Roll in granulated sugar.
Place cookie balls on a lightly greased cookie sheet. Flatten the balls with the bottom of a glass. Bake at 325-degrees for 15-20 minutes or until the bottoms of the cookies are a light golden brown. (Be careful and check after 15 minutes!)
As soon as you take the pan out of the oven, press a chocolate kiss in the middle of each one. Transfer to a wire rack to cool.
Categories: Cookies & Bars, Desserts
Submitted by: suzanne-mcminn on December 10, 2010