This should be titled Food Disaster Soup.
When we grill, I like to cook up a big batch of chicken and use the leftovers in various recipes during the busy weekdays. BUT when things go wrong….
My son grilled a large batch of chicken breasts but overcooked them. After smothering some with BBQ sauce to combat its dryness for dinner, I was left with a LARGE batch of dry, overcooked chicken. Sigh.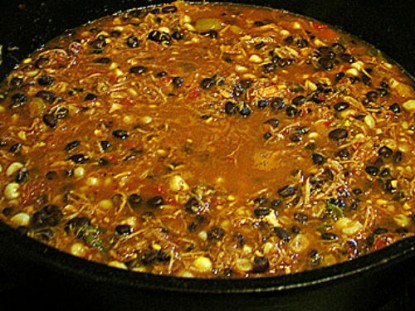 Faced with nothing thawed at dinner time the next day, I eyed the chicken and wondered how to make something out of it. I rummaged through my pantry and here's what I came up with:
1/2 onion, chopped
2 stalks of celery, 1/2 green pepper or similar limp veggies, chopped
1 can black beans
1 can corn or frozen corn
Misc left over bits of vegetables in fridge
2 cans diced tomatoes with peppers and southwest seasonings
Large box (32 oz.) chicken broth or stock
Leftover chicken, chopped into pieces
Cumin, chili powder, salt, pepper
Saute the onion, celery and/or green pepper.
Add the broth, canned and leftover vegetables, leftover chicken (or other leftover meat). Add southwestern seasonings to taste and make it a bit spicy.
Adjust canned veggies to what you have and enjoy. Simmer while you make cornbread or biscuits or warm bread.
This makes a huge pot of soup which along with a salad and/or bread is delicious and even better as leftovers the next day.
Never waste food, make soup!


Do you have a recipe post or kitchen-related story to share on the Farm Bell blog?
See Farm Bell Blog Submissions for information, the latest blog contributor giveaway, and to submit a post.

Want to subscribe to the Farm Bell blog? Go here.
What can you enter to win this month? Click here.