Say HELLO to Mrs. Turkey!

Q. What are your favorite things to cook?
A. I love making soups, breads, pies — anything that is easy, quick and simple now-a-days.
Q. How/when did you learn to cook?
A. I watched my mother cook, but I mostly learned to cook by trial and error after getting married back in early 60's. I made a lot of mistakes but that's how you learn.
Q. Tell us about some of your cooking triumphs.
A. I won second place at a pie contest once. Everyone liked my spaghetti salad when I would take it to church pot luck night.
Q. What was your most memorable cooking tragedy?
A. I'd have to say making pie crust. Took me awhile to master that — so you wouldn't have to use chisel to eat it.
Q. Describe your kitchen. Do you love it, hate it, and why?
A. My kitchen area is large with a lot of cupboard and counter area. But it lacks a lot of light from windows. I wish it was more lit up without having to always have the lights on. I miss my island I had in another house for my baking counter.
Q. Is your pantry organized and are your kitchen drawers tidy? We need to know.
A. My pantry consists of large tiered shelves bought from Home Depot, in a room with 2 small freezers, washer & dryer. No they aren't organized. I do organize them, but they tend to get messed up quickly. My kitchen drawers — some are tidy, some are messy!
Q. Do you have any favorite family cooking traditions?
A. Turkey for holidays, bread stuffing, everyone's favorite pies. Most of all, the family get-togethers.
Q. What is the one gadget (or ten) you couldn't do without in your kitchen?
A. My Kitchen Aid stand mixer, Cuisinart food processor, good paring knives.
Q. If you had to take one food to a deserted island, what would it be?
A. Pasta — I love pasta of just about any kind.
Q. What is your go-to comfort food?
A. Macaroni and cheese, soup — especially hamburger soup.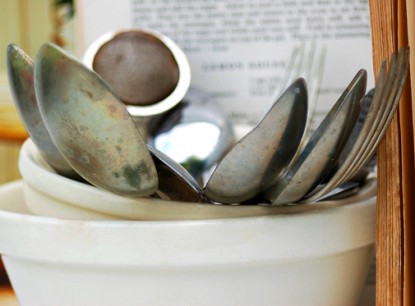 Some of Mrs. Turkey's recipes on Farm Bell Recipes include:
Hamburger Soup
Boston Brown Bread
Maine Baked Beans
Coffee Bars
Custard Pie
Find all of Mrs. Turkey's recipes here.

Interested in contributing a guest post to the Farm Bell blog? Read information here for Farm Bell blog submissions.

Want to subscribe to the Farm Bell blog? Go here.