I spent a lot of time with my mom's mom. She watched my sister and I when we were really little when my mom worked. Then we saw her every Saturday when my mom would take her grocery shopping, and on Sundays when we would pick her up for church. She always looked pretty and smelled good, and we made it a ritual to tell her that each time she got in the car. It was said in the most dramatic fashion possible, with a little sniffing sound for effect: "Grandma, you look pretty and (SNIFF SNIFF) smell good!"
In the summer, Grandma grew rhubarb, pickles, and strawberries. I'm sure she probably grew other things, too, 'cause she was from a farm. But what those things were? I don't remember! I think I remember the rhubarb, pickles, and strawberries because those were my favorite things that she grew. Don't you think?
Before lunch each day, she would let us pick berries to have with our lunch. Of course, we ate just about as many before we got into the house as by the time we got them in. They were so red, ripe, sweet, and juicy, and tasted sooooo good.
She had a pretty little bowl that she mainly used for fruit or fruit salad. I liked it because it was emerald green, my favorite color. It's also a nice size–not too small, not too big. The berries piled in that bowl were so pretty and tempting. Yum.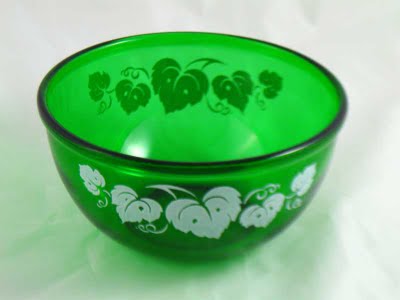 Late in her life, she moved from her house with the wonderful gardens into senior apartments. Of course, she had to pare things way down in order to fit them into her new, smaller place.
I got custody of the beautiful green bowl. I GOT CUSTODY OF THE BEAUTIFUL GREEN BOWL!!!
I didn't use it. I put it on a shelf to look at because I didn't want it to break from use.
Well, one of my dogs knocked into the shelf somehow one day while I was gone. I came home to find the beautiful green bowl shattered on the floor. I was so sad.
The bowl was more than just a bowl to me.
It was a symbol of the times my grandma fed us lunch and cared for us.
It was a reminder of the time spent picking berries together.
It was something she held in her hands so many times, then she passed it on to me.
Once, at a garage sale, I found glasses that matched the bowl. Though they weren't the bowl, they were a visual reminder, so I bought them. They remain in my cupboard to this day.
Last year, I found the same bowl online. It was less than $10, and I wanted it because it was like THE bowl.
I was torn about buying it. Sure, it was just $10, but I wasn't sure I deserved the bowl. What if I broke that one, too? I consulted with my sister Kristi, with whom I consult about all the important things on my brain. She convinced me to get the bowl, but to USE it, not just set it on a shelf. She made me promise.
She was right, of course, so I bought the bowl. I have used it several times since. When it is not being used or going to someone's potluck, it sits on the display shelf in my living room, behind glass so it doesn't have a mishap when I'm not around.
I learned a few important lessons from the loss and re-finding of the bowl.
Use the special things that have meaning to you, and don't save them for "good." They are never going to mean as much to someone else anyway, I'll bet.
Those special things aren't really that special: the memories they invoke are.
A sister with whom you can consult of things is a very good thing to have. I love and appreciate mine.
Grandmas stay in your heart long after they have left you to be with God.
I hope that you all have or had really good grandmas and really good sisters and some awesome memories.
And a nice bowl for berries isn't a bad thing to have either.


Kathi N blogs at How We're Gonna Do It.

Do you have a recipe post or kitchen-related story to share on the Farm Bell blog?
See Farm Bell Blog Submissions for information, the latest blog contributor giveaway, and to submit a post.

Want to subscribe to the Farm Bell blog? Go here.
Would you like a chance to win a Euro Cuisine yogurt maker?
Click here.