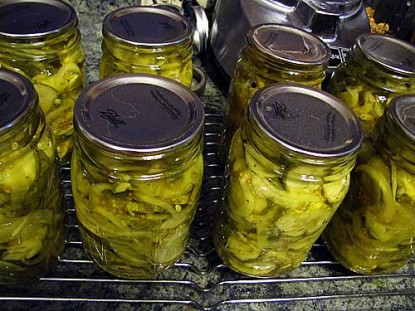 Difficulty: Easy
Servings: 8 pints
Prep Time:
2 hours (includes chill time)
Cook Time:
10 minutes
Ingredients
4 pounds 4- to 6-inch cucumbers, cut into 1/4-inch slices
2 pounds onions, thinly sliced
1/3 cup canning salt
2 cups sugar
2 tablespoons mustard seed
2 teaspoons turmeric
2 teaspoons celery seed
1 teaspoon ginger
1 teaspoon peppercorns
3 cups white vinegar
Pickle Crisp per package directions (optional)
Directions
Combine cucumber and onion slices in a large bowl, layering with salt; cover with cold water and ice cubes. Let stand 1 1/2 hours. Drain; rinse; drain again. Combine remaining ingredients in a large saucepot; bring to a boil. Add drained cucumbers and onions and return to a boil. Pack hot pickles and liquid into hot jars, leaving 1/4-inch headspace. Add 1/8 teaspoon Pickle Crisp to each jar for added crispness. BWB 10 minutes, pints. 20 minutes for quarts.
Categories: Boiling Water Bath, BWB Pickles & Pickled Stuff, Canning, Preserving
Submitted by: suzanne-mcminn on July 13, 2011