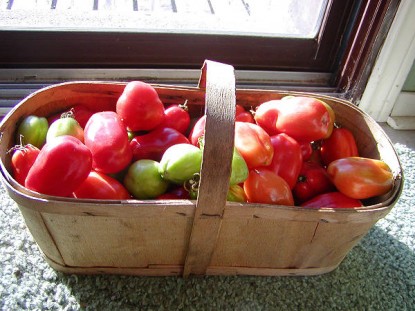 Over the years we have grown a large variety of tomatoes, more recently sticking with heirloom or organic types. We don't want to grow or eat anything that has been genetically modified.
Although we have tried all shapes, sizes and colors, we prefer to stick with the normal, round, red tomatoes. Of all the tomatoes that we have tried, our favorite tomato is grown from the tomato seed that I got in a trade years ago from a fellow gardener whose ancestors brought the seed from Portugal. We just call them our "Portugal" tomatoes. We never did know that actual variety, if there was one. These may have been handed down through the family for generations. We just don't know.
I have had them too long for them to be GM seeds and I know they are not hybrids, as they breed true year after year.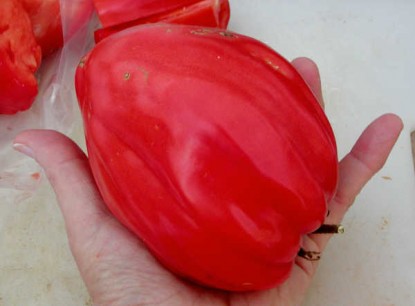 These tomatoes are MASSIVE! Some as big as my hand. They are meaty, sweet and a great size for sandwiches. One slice is all you need!
These are a large beef heart style tomato, which is hard to find. There are a few more out there but I don't know how they compare to mine.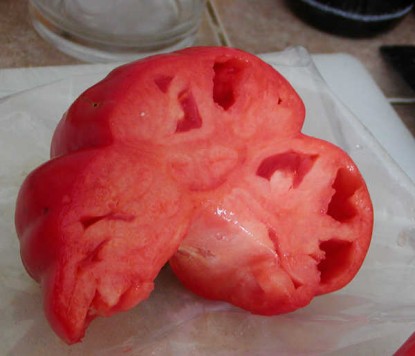 We love this tomato and nearly lost it last year! The tomatoes did so poorly and had so much blossom end rot, I feared that we would not get any ripe enough for seed. Fortunately, I did have some seed saved from the year before. (The smart gardener never plants all the seed.) I also managed to salvage a few of the ripe "Portugal" tomatoes and collected the seed from those, but not a lot. This year we will do better 🙂
Another favorite tomato is the 'San Marzano'. It's our only paste tomato and is touted to be the best in the world. It's from Italy. We grow these every year and they do make great sauce!

They have a thick wall and very little water, which is why they make such good paste.
We also grow: Matt's Wild Cherry, 'Ailsa Craig' and the 'Manitoba' tomato, recently developed to grow big in the short Manitoba prairie season. It is not a GM seed nor a hybrid, so I am growing it for a few years on a trial basis.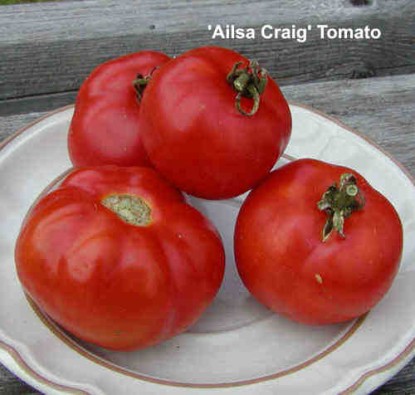 I would like to spread the 'Portugal' seed around so that it does not get lost in a bad year. Anything can happen and I would hate to lose this one completely from our heirloom seed pool! Save those heirloom seeds!
The 'San Marzano' did well enough last year for me to collect some seed, but not well enough, unfortunately, for me to make tomato sauce or paste. I do not have the other three seeds due to such poor conditions last year. I am planting them again this year.
Let's hope for a great tomato growing season this year. Nothing beats a juicy, ripe tomato fresh from the garden!


Editor's Note: You can see Sheryl's seeds for sale on her website (link below).

Sheryl – Runningtrails blogs at Providence Acres Farm.

Do you have a recipe post or kitchen-related story to share on the Farm Bell blog?
Go here to read information and submit a post to the Farm Bell blog.

Want to subscribe to the Farm Bell blog? Go here.