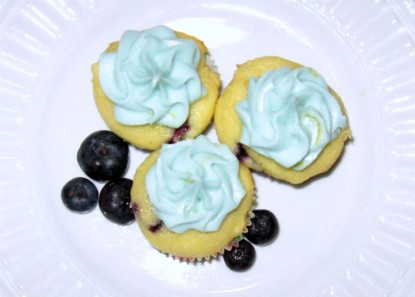 Difficulty: Easy
Servings: 24
Prep Time:
15 min
Cook Time:
16-20 min
Ingredients
Cupcakes:
3 1/2 cups all-purpose flour
1 teaspoon baking soda
1/2 teaspoon salt
2 sticks butter
2 cups sugar
3 eggs
1 teaspoon vanilla extract
Zest of 1 lemon
2 cups sour cream
1 1/2 cups fresh blueberries
Frosting:
2 sticks butter
8 ounces cream cheese
1 teaspoon vanilla extract
Juice and zest of 1 lemon
10 to 12 cups powdered sugar
Directions
For the cupcakes: Preheat the oven to 350 degrees. Line cupcake tins with 24 paper liners.
Mix the flour, soda and salt together in a bowl. Set aside. Add the butter and sugar to a mixing bowl and cream until light and fluffy. Add the eggs 1 at a time and mix thoroughly. Add the vanilla and lemon zest and mix to combine. Add the dry mixture in 3 parts alternating with the sour cream, ending with dry mixture. Stir in the blueberries. Fill the prepared tins two-thirds full and bake 16 to 20 minutes. Cool.
For the frosting: Cream the butter and cream cheese until smooth. Add the vanilla, lemon zest and juice and blend until combined. Add the powdered sugar gradually until combined.
Frost the cooled cupcakes with the cream cheese frosting.

Categories: Cupcakes
Submitted by: rmr1984 on August 9, 2011