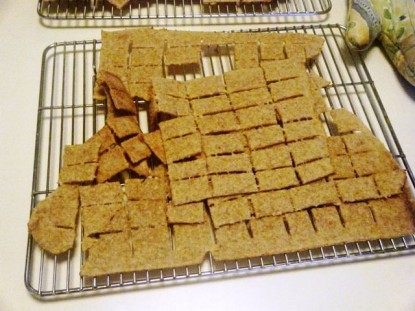 Difficulty: Intermediate
Servings: makes about 3 quarts
Prep Time:
at least a half hour
Cook Time:
15 minutes bake and 1-2 hours drying
Ingredients
1 cup coarse rye flour
2 cups all-purpose white flour
1 cup of pepper jack cheese, diced
a 3 x 3-inch piece of leftover ham-steak (more or less is okay)
2 ounces of ham fat, melted
9 ounces of water
1 teaspoon of yeast dissolved in the water
Directions
Combine the ham and cheese with the rye flour in a food processor and mill with a sharp blade until there are no chunks left. Add the fat and half of the white flour and mill until it is of uniform texture. It will resemble graham cracker crumb crust mix. Move it to a bowl and stir in the water; mix well. It will be wet and sticky. Allow it to rest for a half hour or more.
Dust it with flour and work it into a ball and knead it a few light strokes. Cut the lump in half. Flour the table as for pie crust. Flatten one lump and keep the flour spread so the the dough never sticks. Don't use too much but check often. Roll the dough very thin. Try for less than an 1/8 inch. The only way you can lift this sheet is to roll it loosely on the rolling pin.
With a pizza cutter cut a section about the size of your baking sheet. Lift it on the rolling pin and place it on the sheet. Cut it with the wheel and sprinkle it with salt from a shaker. Repeat with all of the other pieces.
Bake at 325 for 15 minutes.
They will still be tough and bendable. Transfer them to a cooling rack and put them back in the oven to dry at about 250 degrees. When they are perfectly dry, they will snap like a saltine cracker but not as crumbly.
Categories: Breads, Budget, Crowd-Size, Other Breads
Submitted by: ross on February 23, 2011