Q. What are your favorite things to cook?
I really enjoy baking more than cooking. I taught myself how to make bread from scratch and I've perfected my quick-bread biscuits in the last year or so. But, if I must answer the question asked, I enjoy cooking good, simple, tasty, hearty down-home food.
Q. How/when did you learn to cook?
I grew up on a working cattle ranch so some of my earliest memories are cooking next to my grandmother, my mom, or my aunt. By 11 or 12, I was able to prepare meals for the family so Mom could stay out working longer. The down side of that is I learned to cook for 4-6 HUNGRY people! Now it's just my husband and I, and it's really hard for me to make any of "my" recipes without having mountains of food left over. Thank goodness he's a good cook too, so we compliment each other well.
Q. Tell us about some of your cooking triumphs.
I mentioned my biscuits earlier, and I think that's been one of my triumphs. My biscuits were always good, but now, they're freaking awesome. I'm also very proud of teaching myself how to bake bread. I really had to stick with it until I got things figured out (usually not one of my strong points), which gave me the confidence to begin bettering my other baking recipes.
Q. What was your most memorable cooking tragedy?
A couple come to mind. When I first started dating my husband, I brought home some home-grown rhubarb and promised to make him rhubarb crisp. He lived on the other side of town from me. So he could have it fresh, I assembled everything in my kitchen and covered the pan with tinfoil so I could transport it to his house for baking. I set it on top of a load of things to carry out to my car and just as I got there, the pan fell off the top–upside down on the pavement. I tried to pick it up in a hurry. The foil ripped off and there was raw rhubarb crisp (which strongly resembles vomit, oddly enough) all over the street. Of course, I only had enough rhubarb for one batch. He still picks on me about that.
Another time, again before we were married, I was at his house and we were having company for dinner. I was making tamale pie, had filled a 9×13 glass casserole and had some left over that I put into an 8×8 glass dish. I baked them both, got them out of the oven and set them on the stove-top. I was trying to heat up something else, got distracted, and ended up turning on the burner under the square glass dish without knowing it. A few minutes later, a resounding *CRACK* went through the kitchen and the pan cracked into several pieces. The only reason it wasn't a total disaster is that it was the little pan instead of the big one!
Q. Describe your kitchen. Do you love it, hate it, and why?
My kitchen is very small with very little counter space. It has a fair number of cupboards, but only 3 drawers. I don't hate it, but I really don't like it either. I have had to learn a lot about what I really NEED (or can store) in my kitchen versus what I want in my kitchen and about sharing a kitchen with another cook! My husband and I are looking to buy a house and I am looking forward to hopefully having a bigger kitchen–hopefully with enough room to be able to put up with my bread baking and soap making and canning and pigs heads……
Q. Is your pantry organized and are your kitchen drawers tidy? We need to know.
My food storage is pretty organized, although I have to store some of it in the garage. My drawers, however, are a disaster. I have too few drawers, too much stuff and it's all pretty much just thrown in. It's kinda organized in that all the silverware is in one place and all the utensils in another, but that's about as far as it goes. Now that I'm reading this reply and thinking about it, my food is organized in MY opinion and in a way that makes sense to me. But for someone who's never been to my house trying to find stuff in my kitchen? The poor fool doesn't have a chance.
Q. Do you have any favorite family cooking traditions?
My recent adventures in Goetta/Greutzwurst definitely falls in this category. We also have a traditional family cinnamon roll recipe that I love to share and would love to see continue to be passed on. I think my favorite family cooking tradition though is cooking!! My whole family cooks and I married a cook. I love having the love and enjoyment of food as a part of my relationship with my family.
Q. What is the one gadget (or ten) you couldn't do without in your kitchen?
Boy, this is tough. With a good set of knives, a good set of wooden spoons, a good set of baking sheets and a cast iron skillet, I can make darn near anything. Oh, and really nice, sturdy, stainless steel mixing bowls. I was really starting to like my KitchenAid 600 Pro until 2 months into ownership, I stripped the teeth off the gears. If the replacement doesn't fare any better, it's definitely off the list. My husband tells me very kindly that it might not have been designed for the kind of use I have in mind……
Q. If you had to take one food to a deserted island, what would it be?
Beef!! Of course I would say that, being a ranch girl, but seriously!! Beef is breakfast food, lunch food, dinner food–it's so versatile! Unless there were wild cows on my island. In which case, I would say–potatoes! With beef and potatoes, the possibilities are endless.
Q. What is your go-to comfort food?
Generally, it's soup of some sort–tomato soup, Tom Ka Gai (Thai Coconut Chicken Soup), Posole, clam chowder. I also really like instant mashed potatoes, mixed with a jar of chicken gravy and some chopped chicken. Super comforting (and easy, too!)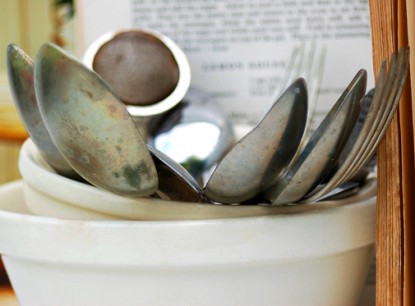 Find all of MrsFuzz's recipes and posts here.



Do you have a recipe post or kitchen-related story to share on the Farm Bell blog?
Read information here for Farm Bell blog submissions.

Want to subscribe to the Farm Bell blog? Go here.