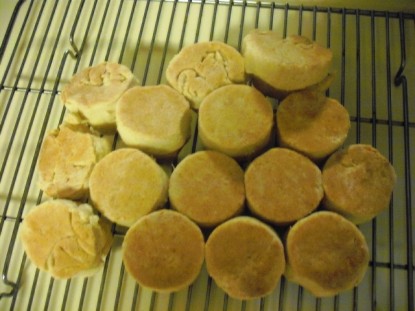 Difficulty: Easy
Servings: 15
Prep Time:
20 mins.
Cook Time:
15 mins.
Ingredients
5 Cups (29oz) AP flour
1 Tbsp + 1 1/2 tsp (.65 oz) baking powder (I get best results with Bakewell Cream Non-Aluminumated Baking Powder)
1 Tbsp kosher salt (.7 oz)
5 Tbsp (2.85 oz) chilled lard
5 Tbsp (2.85 oz) chilled unsalted butter
2 Cups (weighed 17.3 oz, oddly) chilled buttermilk (I use extra rich, but any kind is fine, or you can substitute with powdered buttermilk, or put 2Tbsp white vinegar in your measuring cup, then fill it with regular milk and wait 5 minutes before using)
Directions
Preheat oven to 500 degrees.
Either sift or whisk dry ingredients together. Cut in (using pastry fork, or fingertips) lard until mix resembles coarse meal. Cut in butter, leaving it in larger chunks, 3/4″ or so. I cut the butter into even cubes, then make sure I mash each cube once through my fingers, then quit.
Then add buttermilk, and mix. Add buttermilk a little at a time if necessary to get dough to come together & be slightly sticky.
Turn out onto floured counter top & need 8-10 times to bring dough together, then roll or flatten with fingertips into a disc approximately 3/4-1″ thick. Cut rounds of dough with a sharp edged biscuit cutter, pressing straight down without twisting (using a cup or twisting the cutter results in biscuits that don't rise as high). Rework dough as necessary to use it up, but work it as little as possible (I usually only have to rework it once, then shape the last two biscuits by hand-we call them the dog biscuits, because they're lumpy and usually go to the dogs).
Place biscuits on sheet pan. If you place them touching, the biscuits will be soft sided. Place them a little bit apart to have firm/crispy sided biscuits.
Bake in the oven 15-18 minutes, until they are golden and crispy on the outside.
Categories: Biscuits, Breads, Breakfast
Submitted by: mrsfuzz on January 23, 2011