Or The Story of How To Cook A Pig's Head
***WARNING***
This post contains graphic pictures of a pig's head, both raw and cooked, as well as in various states of dis-assembly. If you are squeamish, you can find just the Greutzwurst recipe itself here, minus the pictures and the need of a pig's head.
***WARNING***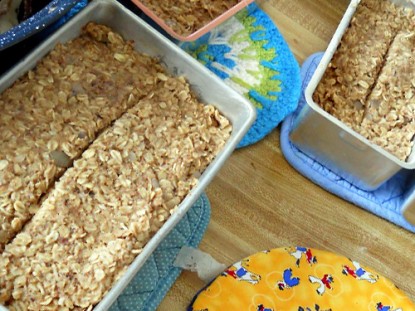 The recipe, as passed from generation to generation: "Take one pork roast, and one beef roast. Cook them with water, salt, onions and bay. Grind the meat, put into a pot with the broth at about a 50:50 ratio and heat. Mix in oatmeal until a wooden spoon stands up straight in the middle of the pot. Cook a little longer then put into loaf pans to cool. Slice then fry and serve on bread or toast."
I come from German heritage on both sides of my family. Very little of our heritage has been carried over, especially in our food. But my family has one very traditional recipe that everyone enjoys. We have always called it "Greutzwurst". The recipe has been passed down through the generations, and as with most family recipes, it's never been written down, and the recipe itself is very vague. My paternal grandmother taught my mother how to make it shortly after she married my dad, and my mom passed it down to me the same way. Part of the traditional "Greutzwurst Story" has always been that "Back in the olden days, they made this recipe by cooking down a pig's head, but now we just use a pork roast."
Mom and I have always joked about making Greutzwurst the traditional way, but never got very serious about it. Then one day, while Mom was dropping off some of our yearling cows at the meat processing facility, I jokingly told her she should ask the proprietor how much he would charge us for a pig's head. The next phone call I received was Mom telling me that we were now the proud owner of a 7 pound pig's head. I was a bit surprised, and asked how much it cost, to which she replied "Free!" Well, one can't turn down a free pig's head, can one??? She took it home and put it in the freezer, and then asked the million dollar question: "Are we actually going to cook this thing?" I was very enthusiastic about the project, and Mom got on board, too. Right up until we figured out that neither one of us knew anything at all about cooking a pig's head, and none of our older relatives did either.
I figured I'd ask Google about it, since surely someone out there had posted instructions on how to cook a pig's head. Unfortunately, while many people TALK about cooking a pig's head, no one has really gone to the trouble of posting a step-by-step tutorial on the process. We found out we were on our own, so we pretty much jumped in with both feet. I'll walk all of you through the process then go over the end result, and what we would do differently.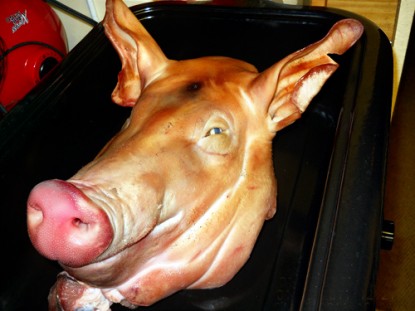 We thawed out the head (we forgot to weigh it, but approximate its weight at 7 lbs), and put it lovingly into our 18-quart Nesco electric roaster. One of the questions we raised was whether or not to leave the skin on, the ears on, the eyeballs in, and the brain in. We decided to just put it in whole, without doing any further butchering.
We added 1 gallon of water, 4 bay leaves, 2 tablespoons of salt, and 3 smallish chopped onions. We also put in a 2 1/2 lb beef rump roast. Put the lid on, turned the temp to 200 degrees, and cooked it overnight, about 8 hrs.
We turned the head over (so the jaw side was now up), turned the roaster up to 300 degrees, and cooked it another 5 hours or so, turning it one more time about halfway through. We also added another 2 cups of water when we turned it the last time.
We then carefully pulled the head and the roast out, set it aside, and strained the liquid into a large pot. We did this to ensure there weren't any bone pieces or teeth lurking in the broth. After pulling out the bay leaves, we put the onions and other strained leftovers back into the broth and set it all aside. This left us with nothing but Porky, post cooking. The lower jaw had come completely loose, and the meat appeared to be ready to slip off of the skull. We left it in the pan, tented with tin foil, to cool for about an hour.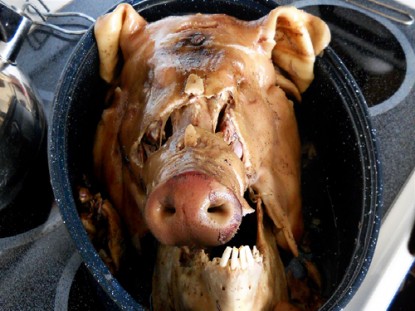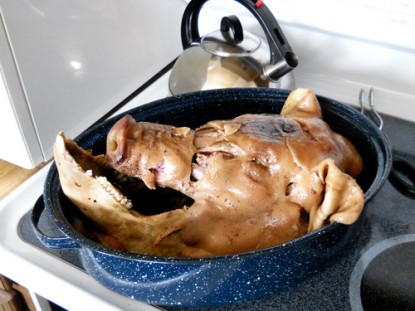 We put the beef roast through the meat grinder then started on the project of tearing apart the head itself. The skin had turned very soft and rubbery and we started by pulling off the ears. We peeled as much meat away from the skin/cartilage as we could before grinding it. Then we moved to the cheeks, the tongue, the snout, and the other bits.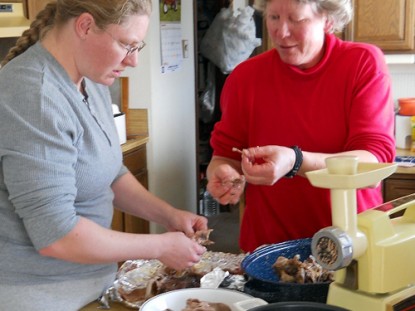 We put pretty much everything through the grinder, with the exception of some pieces of skin that still had bristles on, the ears, the eyeballs (make sure to pull these out when you pull off the cheek meat. I was really surprised how hard they got with cooking!), the upper palate, and the hard cartilage that runs the length of the nasal cavity (yep, we ground up Porky's snout, tongue, and lips with everything else). Here's what we were left with.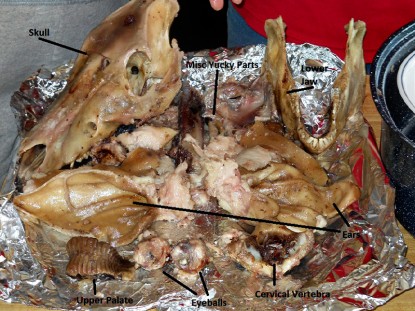 Click on photo for a larger detail
We ended up doing this next part in thirds, though you could do it all together if you had a big enough (read HUGE) pot.
We put the ground pork, ground beef, and the broth into the pot so that the ratio was pretty close to 50:50, adding water if it seemed too meaty. We just eyeballed it, nothing too exact. We heated it until it was simmering, then started adding in the oatmeal (use old fashioned oats, not quick). Be careful during this stage, because you sort of end up with meat lava that spits everywhere.
Each batch averaged about 8 cups of oatmeal needed to make the spoon stand up straight in the middle. We let it cook a couple more minutes before putting it into various containers to cool.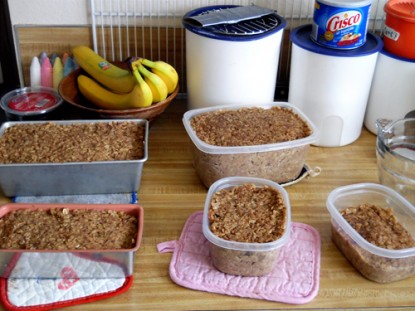 So here's the Greutzwurst recipe as we did it:
2 1/2 lb beef rump roast (yield: 1 1/4 lbs cooked)
7 lb pig head (yield: 3 3/4 lbs cooked)–if afraid to use a pig's head, just use a nice pork roast. It will yield differently, though.
2 tablespoons salt
4 bay leaves
3 smallish onions
24 cups old-fashioned oats
about 22 cups water
Total batch yield: 20 lbs Greutzwurst!!
In our family, Greutzwurst is always served sliced, fried in a bit of bacon grease, then on the eater's choice of toast or bread, lightly smooshed with a fork to break the crust, and sprinkled with salt. The accompanying beverage should always be cold tomato juice.
Get the handy print page and save this to your recipe box here:
Greutzwurst.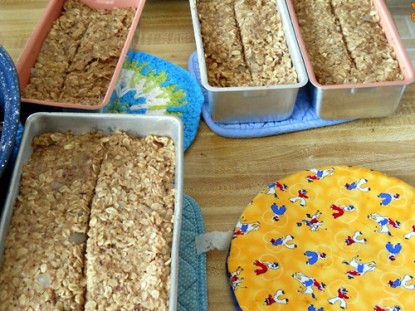 What we learned: We needed more water to cook the head in. We probably could have easily used 1 1/2 gallons, possibly more. We could have cooked it overnight at 250 then flipped the head and finished cooking it the next morning. This Greutzwurst was very dense, and somewhat dry. This is likely because there was a lot more gelatin in the meat than we are used to, and less fat. Next time we would use a fattier beef roast (such as chuck), and possibly also add cubed pork fat (we thought perhaps fresh pork belly (not cured) or something similar would be a good addition, or as a complete substitute for the pig head).
This, like so many peasant dishes, is really about what you like. It's more of a guideline than a recipe. Add more or less or different spices, use different meat, different grains. Make it into your own special family recipe. Also note that the directions for cooking the pig's head would work equally well if you were attempting head cheese, or trying it on a different type of head. (Sheep's head is considered an aphrodisiac in the Middle East.) For anything other than a pig, I would recommend skinning the head first.
Historical Note: In doing my research, I found that true Greutzwurst should actually be ground pork fat mixed with buckwheat, and put into casings. Groetta is the same as the recipe above, except it uses pinhead/steelcut oats. Scrapple is ground pork with added cornmeal. I'm sure there are a dozen other variations, as with any good peasant recipe, it will change by family and by what was available to a particular culture at a particular place.


Do you have a recipe post or kitchen-related story to share on the Farm Bell blog?
Read information here for Farm Bell blog submissions.

Want to subscribe to the Farm Bell blog? Go here.