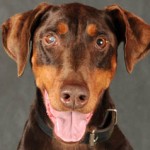 Say hello to Bonita from Chicago, Illinois!
Food interests: generating a variety of yummy dishes based on the same ol' standards.
Hobbies: reading, crocheting, knitting, crafting.


Q. What are your favorite things to cook?
Can't really say I have a favorite…sometimes it's soups for weeks at a time, other times, it's stews for a month or two.

Q. How/when did you learn to cook?
Early on, I was allowed to stand by the sink and watch. By 6 or 7, I made salads, stirred tapioca, etc. My mom worked outside the home so for her cooking was mostly a chore, a dinner that had to be made. That, coupled with my dad's ulcer diet probably took the joy out of cooking. She must have wanted to cook for fun though, she squirreled away gazillions of recipes she wanted to try. Occasionally she tried quite adventurous dishes–breast of veal stuffed with sweet potatoes and rosemary, chicken liver and mushroom spaghetti sauce. I inherited my mom's habit of reading, and dreaming about making, recipes.

Q. Tell us about some of your cooking triumphs.
I was extremely proud of myself when I made myself (non-alcoholic) eggnog in the fourth grade. The recipe, requiring 12 eggs, was in the Childcraft Encyclopedia. I had 1/2 hour to figure out the quantities to make one serving, make the eggnog, drink it, and clean up all before I had to leave for school. (I was supposed get up @ 7, get ready for school, make eggs for breakfast, clean-up, and leave at 8:10 to get (walk) to school by 8:40. (Both parents gone to work by 6:30.)
My first official triumph came when I was about 11. I made a broiled chicken dinner with baked rice, and peas made in the small pressure cooker all by myself. The key here was that I managed to light the stove–by turning on stove, lighting a match, placing it near gas outlet, and withstanding the furious whooompf–without singeing my eyebrows off.
The rest of my 'triumphs' center on entertaining and having guests asking to be invited again.

Q. What was your most memorable cooking tragedy?
Seared lettuce keeper, ala Tupperware. I just never got the knack of an electric range. Ash from the melting/decomposing Tupperware hung in the air like sooty teardrops, light enough to defy gravity.
Oh, and there was the time in my first apartment when I decided to make taffy. The idea of pulling taffy just caught my fancy. The eat-in kitchen table was wrought iron with a glass top. I thought that the glass would be cold like marble and a great place to pour out the molten taffy. It would have been, if I had thought to grease the table first. It took more than a week to gently chip the taffy off the glass!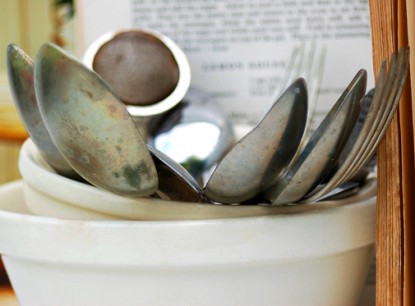 Q. Describe your kitchen. Do you love it, hate it, and why?
It's a large Victorian eat-in kitchen. There's room for an island as well as a small table, east and south facing windows, and a walk-in pantry. I like it a lot. It's the biggest kitchen I've ever had, and it has my first dishwasher!

Q. Is your pantry organized and are your kitchen drawers tidy? We need to know.
My pantry was organized before the mice invasion. Now it's a bit of a mish mash. I'm waiting until I can be certain there are no more varmits. Most drawers tidy enough, spice drawer alphabetized, junk drawer partitioned.

Q. Do you have any favorite family cooking traditions?
Nope…not much family, what family there is, is not much for traditions.

Q. What is the one gadget (or ten) you couldn't do without in your kitchen?
Can opener (sorry).

Q. If you had to take one food to a deserted island, what would it be?
Probably eggs, that would seem the most sensible–not the most appealing, but the most sensible.

Q. What is your go-to comfort food?
Rotini and grated parmesan cheese (uppity mac and cheese).
Bonita has contributed quite a few blog posts as well as recipes to Farm Bell. She may be known as the Queen of Spice.


Please allow a moment for the slideshow to open.
Click on the photo to open the recipe or blog post in a new page.
[portfolio_slideshow]
Do you have a recipe post or kitchen-related story to share on the Farm Bell blog?
See Farm Bell Blog Submissions for information, the latest blog contributor giveaway, and to submit a post.

Want to subscribe to the Farm Bell blog? Go here.
What can you enter to win this month? Click here.