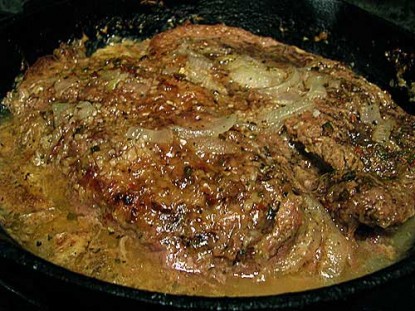 Difficulty: Easy
Servings: 3-4, depending on size
Prep Time:
15 minutes
Cook Time:
1 hour
Ingredients
round steak
flour
seasoned salt
sliced onion
cream of beef soup mix
Directions
Saute onions in lard. Dredge the round steak in flour mixed with some seasoned salt. Brown floured steak in lard in the same skillet you used to brown the onions (just push the onions to the side of the skillet while browning the steak) then toss the sauteed onions on top. Mix some cream of beef soup to make a gravy; pour over steak and onions. Bake (covered) right in the iron skillet! (About an hour at 325-degrees–until done.)
Measurements vary according to how big your steak is. Make enough gravy to cover the steak in the skillet. For example, for an average to large round steak, I use one sliced onion and about a cup of flour with a tablespoon of seasoning salt. I add a couple of cups of gravy–enough to cover the steak, depending on size.
Find the cream of beef soup mix here: here.
Submitted by: suzanne-mcminn on August 2, 2010