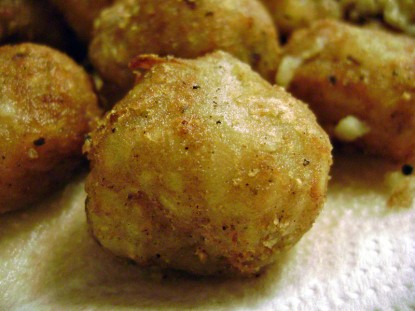 Difficulty: Easy
Servings: 20 tater tots
Ingredients
3 medium potatoes
1/2 cup shredded cheese, any kind, what are you in the mood for?
1 teaspoon seasoning salt (no-salt homemade version here )
1/2 cup flour
1 teaspoon seasoning salt
Pan for deep frying with at least 1? oil heated to 375 degrees
Directions
Cover potatoes with water; bring to boil, reduce to simmer. Cook for about 20 minutes until tender but not done.
Take out of water, let cool until they're able to be handled and peel. It's much easier to peel after they're cooked and you don't waste any potato.
Grate the potato.
Add cheese and 1 teaspoon seasoning salt and stir together.
Roll into balls, ovals, whatever shape you want — as big or as small as you'd like.
Place onto a sheet and refrigerate for about 1/2 hour.
Combine flour and another teaspoon seasoning salt.
Dredge the tots through the flour, just lightly rolling around.
Place in hot oil, cooking until nice golden brown and crispy. The potato is cooked, we're only looking to get the outside browned and crisped. Make sure your oil is hot to begin with or they won't crisp and will fall apart from the potato getting too done and mushy.
Categories: Potatoes, Side Dishes
Submitted by: cindyp on September 25, 2010