I am admittedly a person that does not like to wait for things to be ready to use. A day is fine–this past week (or rather 8 days) has been filled with anxiety. This may be why I haven't tried making wine…or why I make hot process soap. Instant gratification.
Last week, I started infusing vodka with cranberries and vanilla beans–Cranberry Vanilla Vodka. Everyday this past week when I was in the pantry, I swirled the vodka, cranberries, and vanilla beans around inside my pickle jar.
While it only needs to infuse for a week, a couple weeks are fine. But I've been impatient! One week was enough and I finally found some time to filter it last night.
When I opened the jar, I was amazed that it smelled "smooth", much smoother than the vodka when I poured it in. I'm afraid I won't be giving the full bottle, I will have to sample first…it just smells good!
First I strained it through a mesh strainer.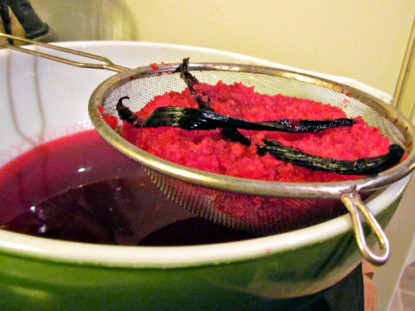 I stirred it up and pressed it through to get all the liquid.
I'm reserving the cranberry vanilla "mash" for further experimenting. Isn't that a beautiful shade of red? Into the freezer it goes!
Then I tried straining through a coffee filter. Absurdly s.l.o.w. Like drip…drip…drip. (Something to do with not being able to wait…) I wish I had a milk filter. I think coffee filters are for hot liquids, not cold.
So, onto several layers of a flour sack towel.
There's a steady flow, now we're in business.
This is just beautiful. Such an amazing red. Much nicer than I see in the stores. See? Homemade is better.
Funnel into your bottle. I don't have to steal out of the bottle! There is plenty for a drink or two for me 🙂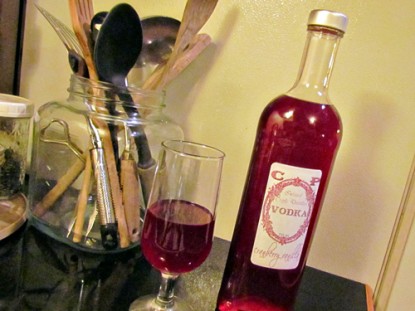 With a little raffia, it's ready to gift.
And with a little orange juice, a Cranberry Tart is ready to drink. Cheers!
Cindy blogs at Our Life Simplified.

Do you have a recipe post or kitchen-related story to share on the Farm Bell blog?
See Farm Bell Blog Submissions for information, the latest blog contributor giveaway, and to submit a post.

Want to subscribe to the Farm Bell blog? Go here.
What can you enter to win this month? Click here.