Look at how CLEAN this cupboard is!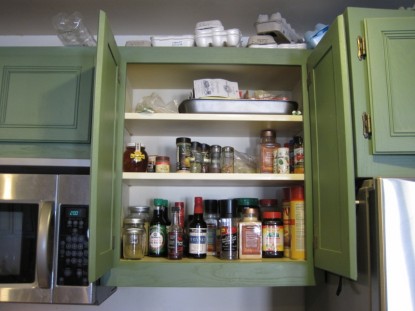 Don't blink, because you may miss it, and it may never happen again.
A while ago, Suzanne challenged us to spring clean the kitchen. One big sweep through the kitchen to clean the cupboards and drawers.
…I tried, really I did. Now I aim for one cupboard or drawer cleaning a week.
I was almost at the "Good enough" cleanliness-stage, but then the MIL moved in, added all her stuff to mine, and it was a lost cause.
The spice cupboard was the one to suffer the most. I threw out at least half of the spices she brought in, as most were not just old, but OLD-OLD. There was a package of nutmeg from 2001, and a can of baking powder from 1997. No joke.
Experts say spices should be used within a year, but the stuff I use rarely sometimes gets pushed to the back and forgotten about. Nowadays, I try to do a twice-yearly cleaning. Everything gets pulled out of the cabinet. No exceptions.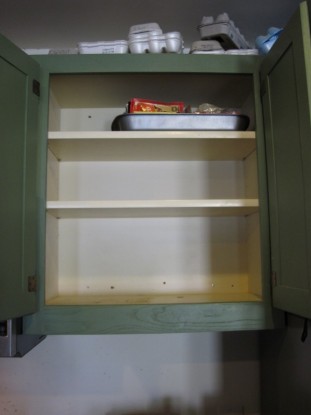 Ignore the egg-cartons. Those are for next week.
This particular cabinet was overflowing to the point the doors would no longer close. More than once I opened the doors, something dropped out onto a plate below, breaking it.
It was time.
All the old spices get consolidated, used right then, or food processed into mixtures for rubs or "flavors".
These got mixed for a spicy "base" to Asian or Mexican dishes.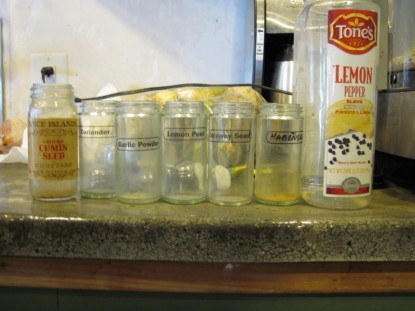 I am pretty liberal with my flavor descriptors.
I blend the spices in the food processor, pour it into a jar, and label it. If that jar isn't used by the next round of cleaning, the chickens get it.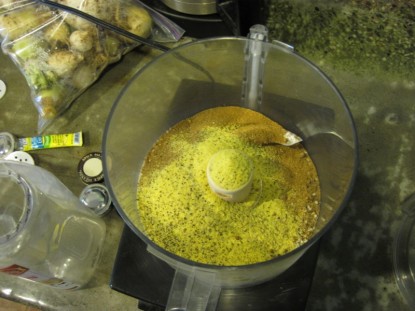 Oddly enough, I find I use the mixes/rubs up pretty quickly. Maybe I just like short-cuts?
This one was loosely labeled: "Middle Eastern" or "Poultry/Fish". Apparently my MIL really, really likes rosemary, because there were 5+ bottles of rosemary in varous states.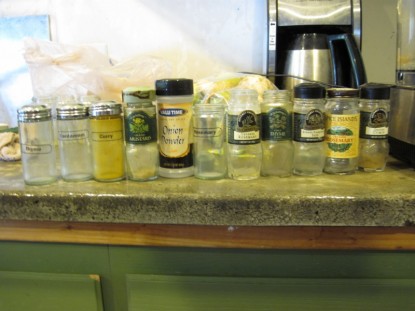 Or, like me, she tended to push bottles to the back of the cabinet and forget about them.
I also made an "Italian" mix, which is already mostly gone. YAY! I love using up items that would have otherwise been wasted, but I LOVE the extra space in the cabinet more!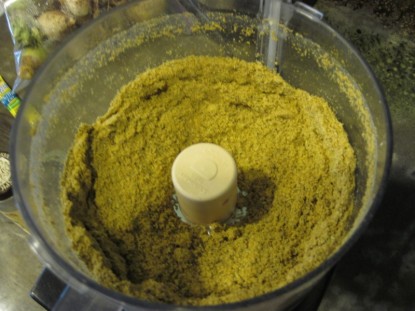 Larissa blogs at The Henway.

Do you have a recipe post or kitchen-related story to share on the Farm Bell blog? See Farm Bell Blog Submissions for information and to submit a post.

Want to subscribe to the Farm Bell blog? Go here.