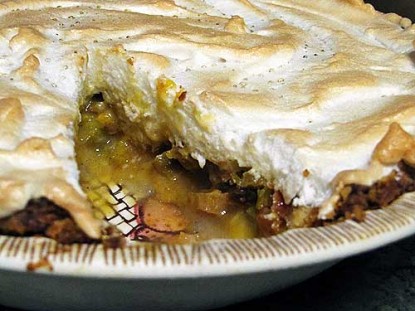 Difficulty: Easy
Servings: 8
Prep Time:
30 minutes total
Cook Time:
40-45 minutes total
Ingredients
3 eggs, separated
2 cups sugar
3 1/2 cups rhubarb, cut in thin slices
1/2 teaspoon salt
1/2 teaspoon cinnamon
1/8 teaspoon nutmeg
1/2 cup all-purpose flour
pastry for a single crust pie
Directions
Combine egg yolks and sugar in a large bowl; stir well. Add remaining ingredients to the bowl and stir to combine. Transfer to a pastry-lined pie pan. Dot the top with a tablespoon or two of butter and stick it in a preheated 450-degree oven for 10 minutes. After 10 minutes, reduce the oven temperature to 350 degrees. Bake another 20 minutes (or until rhubarb softens). Remove pie from oven.
To make meringue:
3 egg whites, room temperature
1/2 teaspoon vanilla
1/4 teaspoon cream of tartar
1/4 cup sugar
Combine egg whites, vanilla, and cream of tartar in a mixing bowl. Beat until soft peaks form. Add sugar a little at a time, continuing to beat until you have stiff peaks. Spread meringue on top of filling and seal well. Bake another 10-15 minutes at 350 degrees. Cool. Chill to store.
You can find my pie pastry recipe on Farm Bell Recipes here:
Foolproof Pie Crust
Categories: Desserts, Old-Fashioned, Pies
Submitted by: suzanne-mcminn on July 8, 2011