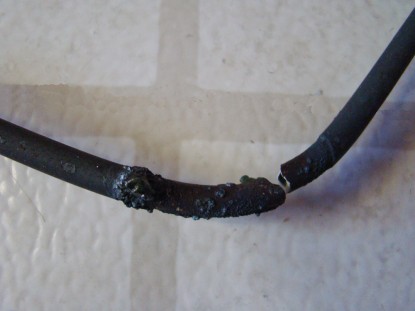 Not too long ago, after a long, long day, I came home really hungry for cornbread. I turned on the oven to preheat it and then started doing the dishes so that I'd have dishes to actually make and bake the cornbread in. Two minutes later, I heard buzzing and fizzing and popping and out of the corner of my eye I saw lights flashing in the oven.
Not a good sign.
The buzzing and fizzing and popping could easily have been the kids or the cats. Or a renegade mouse. Or the radio, which has seen better days.
Or some paper that got caught behind the fridge and sort of got sucked into the exhaust unit thingie and was rattling around. I know this because one day that actually happened and I thought the fridge was short circuiting. I was sure it was going to burst into flames any second, and after sniffing for smoke hard enough to cause the air pressure in the house to significantly drop, I grabbed the fire extinguisher, stood at attention by the fridge and called my husband. It was kind of embarrassing to find out it was only a piece of paper that got sucked up into the exhaust thingie. Also, to find out how dirty it was behind the fridge.
But the flashing lights in the oven could not be explained by any of those things.
The lights in the oven corresponded with the pops and fizzes and buzzes and then bangs.
I looked inside and saw that one corner of the bottom element was sending up a fountain of sparks – like those fireworks that stay on the ground and that send up a fountain of sparks. I love those. Actually, I love all fireworks. Especially the big ones that look like zinnias and spread out across the sky. Oh, and the ones that go straight up and explode into three more fireworks of all different colors. And the pink ones. I love the pink ones.
Where was I?
There were fireworks in my oven. I don't really think fireworks belong in the oven.
I turned the oven off.
It seemed like the right thing to do.
I was so glad my cornbread wasn't in there.
When I got the courage to open the door, I saw that one corner of the element was toast.
Not actual toast. Just toasted.
Not actually toasted, more like melted and cracked.
Yep. One corner of the element was melted and cracked.
We did not have cornbread that night.
I was bummed.
The good news was that when elements go bad, they go bad just like that. It was not a freak of ovendom. Also, they're easy to replace. Whew.
We have a new element now. We inaugurated it with spritz cookies.
Not in the shapes of fireworks.