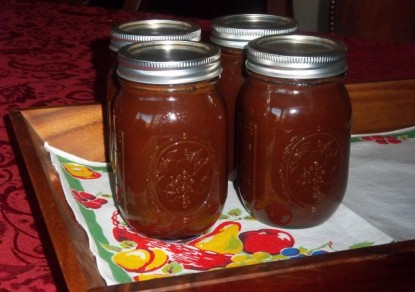 Difficulty: Easy
Servings: 7
Prep Time:
5 minutes
Cook Time:
2 hours
Ingredients
8 cups applesauce
6 cups brown sugar
32 oz. tomato sauce (or two 15 oz. cans)
1 1/2 cups vinegar
4 tsp. salt
4 tsp. garlic powder
3 tsp. cinnamon
2 tsp. liquid smoke
2 tsp. chili powder
2 tsp. paprika
1 tsp. black pepper (optional)
1/2 tsp. cayenne pepper
1/4 tsp. ground cloves
Directions
Mix all ingredients together in a large stock pot. Bring to a boil; simmer for 1 1/2 – 2 hours or until thickened. It smells wonderful!
Fill sterilized pint jars with the hot BBQ sauce, leaving 1/2 inch head space. Process 20 minutes in a hot water bath. Be sure to add five minutes for each 1000 feet elevation. I have to process mine for 25 minutes because we live at about 1600 feet.
Yield: 6 – 7 pints
Categories: Boiling Water Bath, BWB Condiments, BWB Sauces, Canning, Condiments, Preserving, Sauces
Submitted by: thevintagehomemaker on February 21, 2012