We made No-Bake Cookies. These aren't part of the Christmas cookie stash, we just needed some chocolate!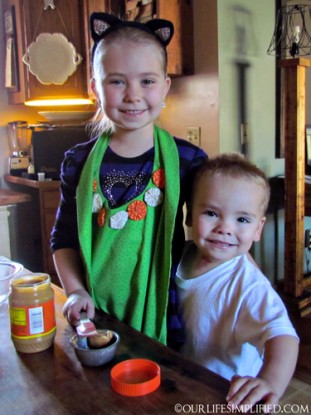 I'm amazed when some people ask me how to make No-Bake Cookies. It makes me step back and appreciate growing up the way I did (well, in most ways :)). All of us kids, even the boys, learned to cook early–probably so we wouldn't starve until Mom got home from work.
No-Bakes were the first cookie I learned to make on my own when I was about Caitlin's age. Simple, always on-hand ingredients and a stove were all I needed.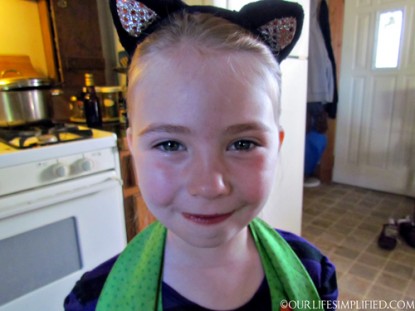 I love to hear "Nana, can we make cookies?"
No-Bakes are the first cookie Caitlin made with me. We've made Peanut Butter Candy (totally no-bake, no-cook) together since, but she loves to make No-Bake Cookies.
Some people like peanut butter, some people don't. You don't have to find a whole new recipe! Just leave it out. My original recipe I learned to make some eh, eh 35 years ago did not include peanut butter. I've since then just added it and the recipe works either way.
How to make No-Bake Cookies:
In a large saucepan combine 2 cups sugar, 1/2 cup butter, 1/2 cup milk, and 1/3 cup cocoa.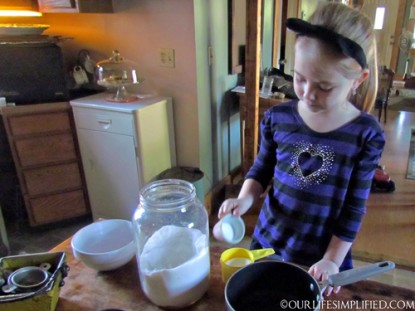 Bring to a FULL boil (cannot be stirred down) over medium heat, stirring frequently. Boil at a FULL boil for three full minutes, stirring constantly.
Remove from heat. If you're using peanut butter, stir in 1/2 cup peanut butter (crunchy or plain, your choice).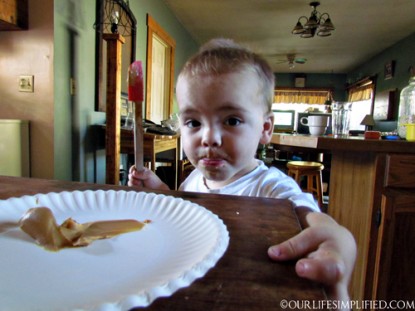 Keep the 2-year old busy with a plate of peanut butter and a spatula.
Stir in 1 teaspoon vanilla, then 3 cups oats. If using old fashioned oats, cool mixture in saucepan for 5 minutes.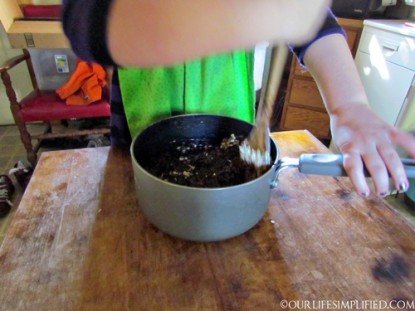 Drop the mixture by tablespoonfuls onto waxed paper.


Find all of the No-Bake Cookie Recipes!


Some recipes call for "boiling at full boil" for 1 minute. I cannot get these cookies to set up right. I always revert back to "boiling for 3 minutes at a full boil". If you're having problems with a recipe setting up, try boiling for 3 full minutes if it calls for only 1…adding more oatmeal only makes it drier, not the fudgy texture we love.
When Caitlin's helping me, I do the cooking part. Until she tells me and I verify that she's allowed to cook on the stove at home, I will do the cooking, she will do the measuring and the mixing.


Cindy blogs at Our Life Simplified.

Do you have a recipe post or kitchen-related story to share on the Farm Bell blog?
See Farm Bell Blog Submissions for information, the latest blog contributor giveaway, and to submit a post.

Want to subscribe to the Farm Bell blog? Go here.
What can you enter to win this month? Click here.