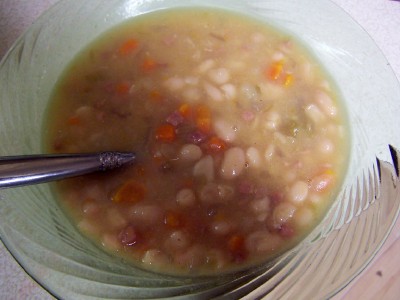 Difficulty: Easy
Servings: 8 big bowls
Prep Time:
15 minutes
Cook Time:
8 hours and 20 minutes
Ingredients
1 lb. Great Northern beans
3/4 cup diced onion
3/4 cup diced carrot
3/4 cup diced celery
6 oz diced ham
1 oz chicken base
1/2 tsp Seasoned Salt
1 tsp Liquid Smoke
1 tsp granulated garlic
1 tsp white pepper
1/2 gallon water
1-oz cornstarch
1/2 cup water
Directions
Place first 11 ingredients in a cast iron Dutch oven (or you can use a slow cooker), cover and place in a 200 degree oven for 8 hours. (Of course, if you're using the slow cooker, you will not put it in the oven!)
When the beans are tender, remove from oven, place on stovetop and bring to boil. Mix cornstarch and 1/2 cup water, add to soup to thicken, and let simmer for 15 minutes.
Categories: Bean Soups, Beans, Beans, Grains & Rice, Budget, Crock Pot, Main Dish, Old-Fashioned, Soups & Stews
Tags: slow cooker, soup
Submitted by: kathleennoland on November 8, 2011