Say hello to Lisabeth from Yankton, Oregon!
Food interests: I like most foods. I bake a lot. I will take a whole day every once in a while and bake all day. Mostly making desserts..
Hobbies: knit, crochet, sew (35 years professionally), do crewel embroidery and counted cross stitch and quilt.


Q. What are your favorite things to cook?
I really don't have just a few favorites, I just like to cook and would tackle most anything I can get my hands and pans on, in, on,in, well you understand!

Q. How/when did you learn to cook?
The first thing I ever remember cooking was a fried egg when I was younger than 10 on a wood stove with a cast iron pan. I remember the cast iron pan because it was all grandma had in the hills of Virginia. I remember helping bake biscuits some mornings also. Our flour was in a large bin like a large cedar chest. With 7 of us still in the house we used lots of flour. We had biscuits for breakfast every morning and cornbread every night. Usually the leftovers were given to the chickens unless there were lots then we would have them as leftovers at the next meal. I caught my first fish and cooked it with grandma's help. The fish was all of 5″ long before it was cleaned. You know I shared my only 2 bites, right?

Q. Tell us about some of your cooking triumphs.
A cooking triumph to me is anything that I make that Bruce doesn't say "that would be really good with." I love him, but that one statement drives me away from the kitchen.

Q. What was your most memorable cooking tragedy?
When I was in high school, I had a boyfriend who had disappeared before Thanksgiving for his own reasons. My mother, dad, and niece living with us had gone with relatives to a dog show. When they returned I was taking the turkey out of the oven. My niece ran in the house and told me they had seen him at the dog show. I dropped the turkey, pan and all on the floor. I was done. Dinner was served!
I have another when I was first married, our family owned motels in Desert Hot Springs Calif. I used to make pies for the snow birds that came every year. One year I thought I would get ahead of the game and make the fillings for my pumpkin pies and put them in the refrigerator. I did and when I poured the filling into the crusts I realized I was not suppose to add the eggs until I put them in the oven. Every pie was soured. I had to start all over by buying pumpkin and eggs, milk and crusts so I could have the pies for my customers.

Q. Describe your kitchen. Do you love it, hate it, and why?
My kitchen belonged to my mother in law for 40 years before I came here. The kitchen is large enough for the cooking I do. It is a U shape and for the most part I like it. We have enough counter space, a pantry that is a room away from the kitchen built in the stairs going up to the crawl space to the attic behind the laundry room. The kitchen is desperate for reflooring. I ripped the linoleum up because it had a hole in it the size of Clover when she was pregnant. I kept tripping over it and almost fell, so I ripped up the linoleum because I have been TOLD we are going to remodel……… I painted the floor until ?????…then.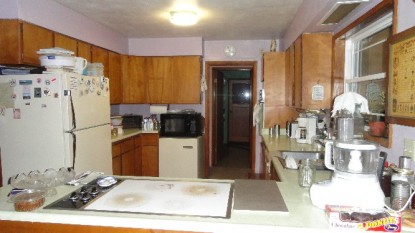 I give cheesemaking classes and have just enough room for two people to work at the stove at once. I have a love hate relationship with the counter top glass stove. I do all my canning on it and teach cheesemaking there also, even though I do have another stove top in the laundry room. I love to use it, but hate to clean it (the glass top). I have learned that baking soda is my best friend. I use it for a folding table for my laundry also. There are not enough drawers that are large enough to hold everything, so we have doors with utensils hanging on the inside of the doors. All of the cheesemaking and canning equipment is in the laundry room on a metal rack on the way to the pantry.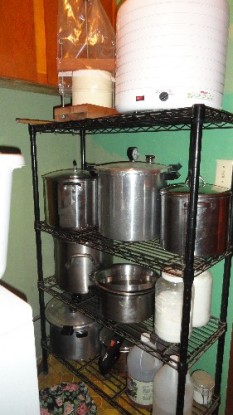 The home canning is in the garage on shelves against the wall and the dry goods are in the pantry up the stairs to the crawl space.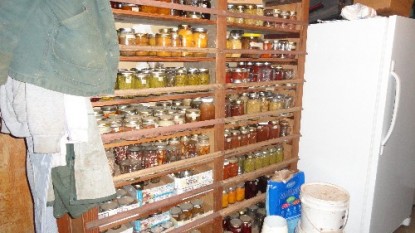 Nothing is in disarray, it is just gone away.


Q. Is your pantry organized and are your kitchen drawers tidy? We need to know.
My pantry is tidy so when hubby goes in he isn't reorganizing it for me. I hate when he does that, he doesn't cook anymore and I NEED to know where things are.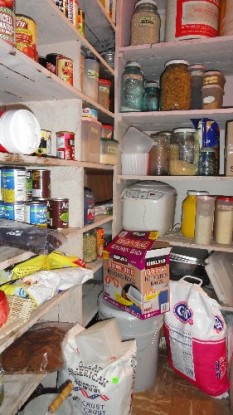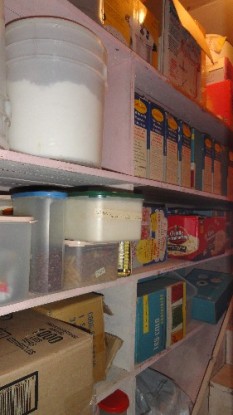 My drawers are somewhat tidy since I can just open the drawer and pick up what I use most of the time. My junk drawer (as most people call it is one of the most tidy). I just HATE junk drawers in a kitchen. I have a roll-away for tools. Of course I am the woman who carries a fence tester, measuring tape and knife in her pocket.

Q. Do you have any favorite family cooking traditions?
I really like to cook for the holidays and make lots of pies, bread, cookies and everything that goes along with the holiday.
I try to take one day every so often and bake, and freeze the baking so I will have it for the month or so until I run out. I really enjoy trying new recipes and have had some real triumphs from some of the Farm Bell recipes.

Q. What is the one gadget (or ten) you couldn't do without in your kitchen?
My father in law worked at one of the wood mills here in St Helens, Oregon for 47 years. He made 2 knives which I use before even the excellent ones I have had for most of my adult life. They are made of old saw blades and stay sharp longer than anything else I have EVER used. I did have to get used to which side was the sharp side. They both look almost alike and 4 1/2 years later I still try to cut with the wrong side.


Q. If you had to take one food to a deserted island, what would it be?
What is one? I just like food! All of it in most forms. I haven't found much that I don't like or won't eat. Well, this got me thinking, I hope I never end up on a deserted island without my knife, even though I wouldn't eat alligator at least I could kill the thing….I hope if there were any there, because I know for sure I can't outrun it. No more trips for me, I don't even like to think about only one food, but if the island had mangoes I might go just so I could finally get my fill.

Q. What is your go-to comfort food?
The way I like food and usually have so much prepared in the house, I have to say coffee. I really enjoy coffee. I have always said if I could live on the smell I would be perfect. Well, that isn't going to happen! Duh.
But then of course I had to be given time to think about it and now I just couldn't let this go by without saying fried potatoes, cornbread and cabbage. I could eat it breakfast, lunch and dinner.
Some of Lisabeth's favorite recipes that she's contributed to Farm Bell Recipes include: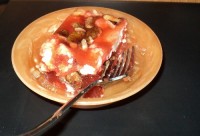 Cinnamon Applesauce Salad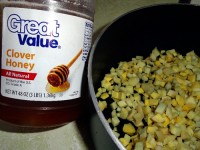 Making Honeyed Ginger



See all of Lisabeth's recipes and blog posts!


Do you have a recipe post or kitchen-related story to share on the Farm Bell blog?
See Farm Bell Blog Submissions for information, the latest blog contributor giveaway, and to submit a post.

Want to subscribe to the Farm Bell blog? Go here.
What can you enter to win this month? Click here.