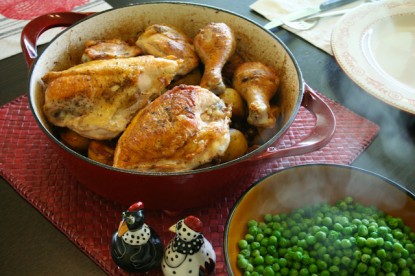 Best of The Sunset Cookbook, 101 Top Recipes
Difficulty: Easy
Servings: 4-6
Ingredients
2 tablespoons olive oil
1 chicken (4 to 5 lbs.), cut into 6 pieces (2 bone-in breast halves, 2 bone-in thighs, and 2 bone-in drumsticks)
1 teaspoon salt
1 teaspoon freshly ground black pepper
1 cup frozen pearl onions
6 large cloves garlic, unpeeled
2 sprigs fresh thyme
1 pound baby Yukon Gold potatoes, scrubbed and halved
3 slices thick-cut bacon, sliced crosswise into 1/4-in.-wide pieces
1 pound cremini or button mushrooms, trimmed and cut into quarters
2 cups reduced-sodium chicken broth
Directions
1. Preheat oven to 375°. Heat oil in a heavy-bottomed 4- to 5-qt. pot over medium-high heat. Season chicken pieces with salt and pepper and add skin side down to pot. Cook until skin is crispy and deeply browned, about 12 minutes. Remove chicken from pot and set aside.
2. Pour off all but 2 tbsp. cooking fat, reduce heat to medium-low, and add onions, garlic, and thyme. Cook, stirring often, for 5 minutes, then add potatoes and bacon. Cook, stirring occasionally, until mixture is well browned, about 8 minutes. Pour off all but a thin layer of fat.
3. Add mushrooms and chicken stock, bring liquid to a boil, and cook until liquid is reduced by one-quarter. Arrange chicken, skin side up, on top of vegetables.
4. Transfer pot to oven and bake, uncovered, until chicken is cooked through, about 20 minutes.
Categories: Main Dish, Poultry
Submitted by: nursemary on October 1, 2011