Everyone loves puff pastry, but no one really wants to make it from scratch. Do they?
This is not real puff pastry, but a good, quick imitation that makes great turnovers or pocket sandwiches. It can be used with sweet or savory fillings. I got the recipe from a friend's mother whose family were 4th generation farmers in Zimbabwe. It is easy to put together and freezes well.
And if you are lazy, like me, you appreciate a recipe with so few ingredients that you can memorize it. That means I don't even have to drag out my recipe file to make it.
How to make Quick Puff Pastry: Printable
All you need is flour, butter and cream.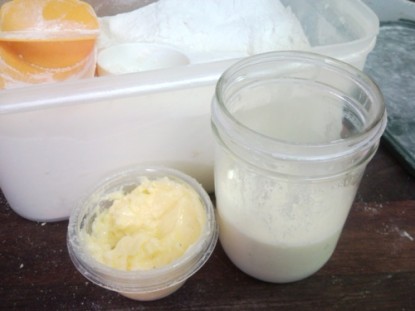 If you can make a pie crust (or even if you can't), you can make this!
Dump 3 cups of flour into a bowl.
Dump in 1 cup of cold butter.
Rub together with your fingertips until you get a coarse, crumbly texture. You can also use a pastry cutter, just like you would for pie dough.
Then add 1 cup of cream and bring the dough together.
Wrap the dough in plastic wrap and refrigerate before using because the dough will be very soft at this point. (It will keep about a week in the fridge.)
Roll cold dough to about 1/8″ thick. Cut into approximately 6″ rounds and fill as desired, using about 2 tablespoons of filling. Fold edges together and seal with fingers or fork.
Bake filled turnovers at 350F for about 20-25 minutes.


If you want to make fruit turnovers, use a thick pureed filling. Dried fruit (rehydrated and sweetened) works well for this as does thick applesauce.
Savory fillings I have used include cooked chicken mixed with chive cream cheese. Scrambled egg, ham and cheese is tasty, also!
Experiment! This is a great way to use leftovers and it makes great travel food, too.


Do you have a recipe post or kitchen-related story to share on the Farm Bell blog?
See Farm Bell Blog Submissions for information, the latest blog contributor giveaway, and to submit a post.

Want to subscribe to the Farm Bell blog? Go here.
What can you enter to win this month? Click here.