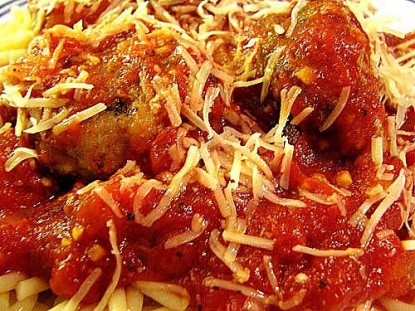 Difficulty: Easy
Servings: about 4 quarts
Prep Time:
15 minutes
Cook Time:
2 hours
Ingredients
2 28-ounce cans diced tomatoes
6 cans tomato paste
2 teaspoons dried or 2 tablespoons fresh basil
2 teaspoons dried or 2 tablespoons fresh oregano
2 tablespoons chili powder
1 tablespoon pepper
2 teaspoons salt (or to taste)
3 tablespoons minced garlic
2 tablespoons sugar
1 bay leaf
1 large onion, chopped (optional)
2 cups water
Directions
Simmer, covered, one hour, stirring occasionally. Simmer another hour uncovered. (Discard bay leaf when sauce is finished.)
For spaghetti sauce: Add cooked ground beef (and meatballs!) along with other vegetables, sauteed with the beef, as desired–peppers, mushrooms, etc. (Amounts depending on how much sauce you're using for spaghetti.)
Also use for pizza sauce, and for a base sauce to shortcut lasagna. Simply add the cooked sausage and ground beef.
To store: Use a ladle or large scoop (a measuring cup works good) and place in freezer bags.
Categories: Main Dish, Pasta, Sauces
Submitted by: suzanne-mcminn on April 5, 2011