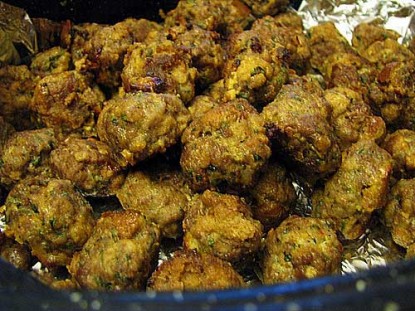 Difficulty: Easy
Servings: approximately 50 meatballs
Prep Time:
45 minutes
Cook Time:
5 minutes if frying, 30 minutes if baking
Ingredients
sliced bread (8 slices if using regular storebought sandwich bread–or if using homemade slices that may be slightly larger, use 6)
2 tablespoons minced garlic
2 tablespoons salt (or to taste)
1/2 cup dried or 1 cup fresh parsley
2 teaspoons pepper
3 eggs
1/2 cup shredded Parmesan cheese
3 pounds ground beef
Directions
Soak slices of bread one at a time in a bowl of water, dipping each side of the slices then tearing in pieces and placing in another bowl. Add remaining ingredients to bowl with bread. I like to get all the other ingredients together then add the meat. Mix ingredients together well with your hands then shape into balls.
To bake:
Place meatballs in greased pans and bake at 350-degrees for 30 minutes, depending on the size of your meatballs. Test for doneness.
To fry:
Roll meatballs lightly in flour and fry in hot olive oil–approximately 5 minutes uncovered then another 3-5 minutes covered (depending on size of meatballs), turning frequently to brown on all sides. Test for doneness.
Makes approximately 50 meatballs.
Categories: Appetizers & Snacks, Beef, Kid-Friendly, Main Dish, Pasta
Submitted by: suzanne-mcminn on April 5, 2011