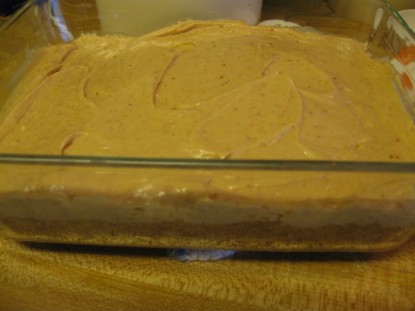 Difficulty: Easy
Servings: 8
Prep Time:
10 minutes
Cook Time:
1 hour in the fridge
Ingredients
1 brick cream cheese, softened (8 oz)
¾ c peanut butter, smooth is better for this
8 oz sweetened condensed milk
1 c whipped topping (more if you also want to use it as a topping)
1 tsp vanilla
3 Tbsp lemon juice
2 sleeves graham crackers, crushed
¾ c butter, melted
¼ c sugar
Directions
Melt the butter. Mix the butter, sugar and cracker crumbs together and press into your 9 x 13.
Is there really a reason to make any other kind of crust?
Then mix the rest of the ingredients together and spread it over the lovely graham cracker crust. Cover it with plastic wrap and refrigerate for as long as you can stand it. Try to hold out until after supper.
You might want to top it with some extra whipped topping as you serve it. I like to toss a few M&Ms on too!
Categories: Desserts, Kid-Friendly, Other Desserts, Pies, Puddings & Custards
Tags: easy
Submitted by: sweethappymom on May 3, 2010