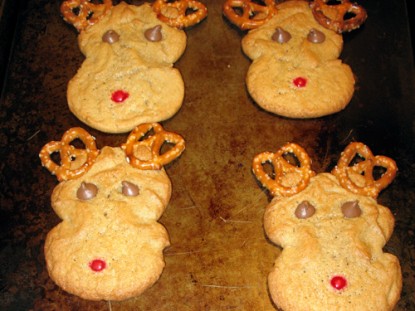 Reindeer cookies originally came from an article in the Taste of Home magazine.
Difficulty: Easy
Cook Time:
9-11 min
Ingredients
1 batch Peanut Butter Cookie Dough formed into a roll — or you can cheat and buy rolls of Pillsbury Peanut Butter Cookie Dough from your grocers dairy section
1 bag mini pretzels
Chocolate chips
Cinnamon Imperial candies
Directions
Cut the peanut butter cookies dough into slices and place on an ungreased cookie sheet. Gently squeeze each slice in a bit so they are kind of shaped like a fat figure eight. Place a mini pretzel at the top of the head part, on each side, to form the antlers. Then place two chocolate chips on the top section for eyes and one cinnamon Imperial candy on the bottom section for Rudolph's nose.
Bake according to the directions for the cookies, usually 350F for 9-11 minutes, but it may differ according to your oven.
Categories: Cookies & Bars
Tags: Christmas Cookie
Submitted by: blueberrylu on December 9, 2010